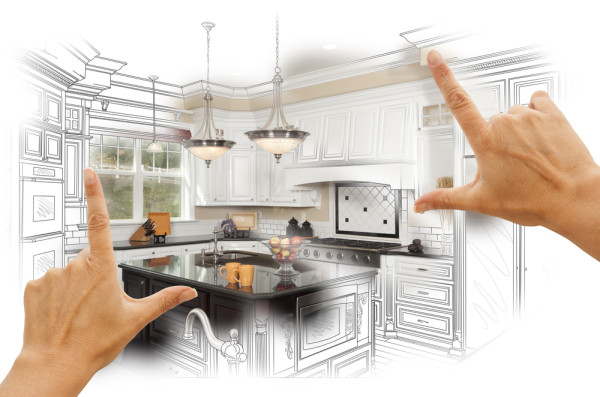 As a homeowner, you may have fantasized about adding a few more luxuries to your home. If you've been procrastinating, it's because you didn't even know where to start. How do you upgrade your home? Is it expensive and time-consuming and inconvenient to renovate? Should you do it a little at a time or all at once? And what do you do if you change your mind about something that looked good on Pinterest or a catalog, but just doesn't work for you in real life?
Here are some ideas to help you decide what to renovate, how much to spend, and how to budget out your time and money if you do decide on some minor or major renovations:
Step #1: Protect your home.
Once you renovate your home, it will attract attention. Unfortunately, it's not always the kind of attention that you might want. Using a monitored home security system from a well-established company that offers ADT security will be an effective deterrent. Once potential burglars see signage that your home is protected, they'll quickly realize that they will be videotaped and that the local authorities will be immediately alerted if they do anything suspicious.
Step #2: Improve the energy-efficiency of your home.
Before focusing on new kitchen cabinets or marble bathroom tiles, start with making your home more eco-friendly and energy-efficient. Although many of these changes aren't noticeable to visitors, you'll definitely appreciate the benefits of lower energy bills, improved lighting, cleaner indoor air, and better-regulated temperatures.
Here are six ideas to consider:
If you get energy-efficient windows that use smart window technology, you'll be able to control lighting conditions in a room with your smartphone, shading and tinting your windows at the touch of a button.
If you get solar energy, you'll be able to heat and cool your home more efficiently and cost-effectively.
If you're planning on doing any painting, use low-VOC paints, because volatile organic compounds negatively impact indoor air quality.
If you're planning on getting new appliances, use energy-efficient models.
If you need to do any re-insulation prefer earth-friendly building materials.
If you want to improve your health in a dramatic way, think about your HVAC system, considering the idea of a whole-home electrostatic filtration. It will remove all sorts of invisible problems polluting your air—mites, danger, smoke, and pollen. In fact, you'll require less housework to keep your house immaculately clean.
Step #3: Focus on function, before you get to form.
The most functional rooms in your house are the kitchen and the bathrooms.
First, the kitchen can be considered the hub of your home, and a modern kitchen with, say, travertine floor tiles, dark wood cabinets, and brushed metallic islands, will be a joy to prepare your meals in. Also, consider rewiring for lighting, quad outlets, and multimedia networking.
Next, consider the bathrooms. Besides debating the merits of Jacuzzi tubs or saunas, you have a world other choices. For instance, do you want heated towel rails, new cabinetry, or steam showers? Or perhaps, you want under-floor heating, marble floors, or standalone feature tubs?
Finally, think about the changes you would like to make to the living room, dining room, and bedrooms. Often, all you need is the right furnishings, décor, color coordination, and artwork to add just the right touch of luxury to these rooms.
Step #4: Don't forget about maintenance.
When you're planning a house renovation, you have to look past the idea of adding new features and removing worn-out elements. Also consider what you need to do keep things clean, keep them up-to-date, and keep them safe from rambunctious pets and playful children who might be inclined to place a muddy paw or handprint on your Chesterfield upholstered sofa or knock down the sculptural accent piece you discovered at an antique store that was once used by European nobility to grow tulips indoors.
Renovation is a Creative Act
Think of a home renovation as similar to writing a novel. It takes time for the best ideas to rise to the top of your awareness. Before creating a budget, before leaping into action, and before falling in love with your inspired ideas, do plenty of research, sit on the ideas for awhile, and discuss them with your spouse, family, and friends. Then, when you're ready, create a project, unrolling each phase of it one at a time. This isn't procrastinating or dawdling, it's giving you time to nourish your creative ideas.