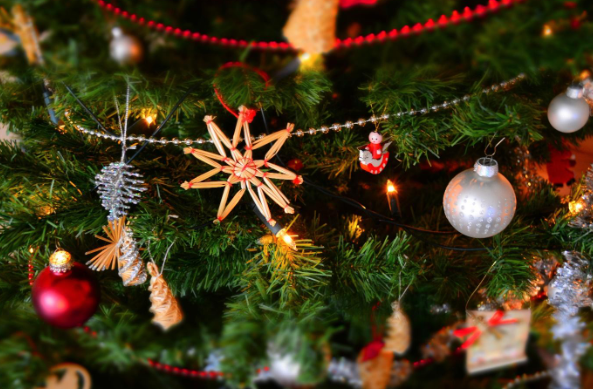 When it comes to decorating your rented property this Christmas, you need to be extra careful. As a renter you may not be able to make any lasting alterations to the property without the owner's consent. Fortunately, there are still loads of ways you can give your rental property a Christmas makeover without upsetting your landlord and putting you deposit at risk.
Find out what your landlord allows
What you are actually allowed to do in your rented property will vary from landlord to landlord, so it's always important to carefully read your tenancy agreement and make sure you know how you might be restricted. Some landlords will not allow so much as a pin in the wall, whereas others are happy to let you do whatever you like, as long as you return the property to its original state. If in doubt, just speak to your landlord or letting agency and find out exactly what you can and can't do.
Real or fake tree?
You can't have Christmas without a Christmas tree. Some people love the smell of natural pine and couldn't think of getting anything else, while others don't want the hassle and bring out the same artificial tree every year. But, if you are renting, you may need to think twice about which option you go for.
Renters wishing to go down the natural route will have to think about the potential mess. Not only will pine trees get their needles all over the place, they can also leak sticky sap. Generally, these things can be cleaned up easily, but you may want to avoid this altogether and get an artificial tree. Whatever you decide to go for, a Christmas tree is a great way to get some decoration into your house without damaging it. If you need some inspiration, Wyevale Garden Centres has a great guide to tree decoration.
Can't pin it? Use ornaments
Depending on how strict the terms of your tenancy agreement are, pinning things on walls or in doorways may be a big no-no. If this is the case, filling your home with Christmas ornaments may be the smart way around this. Reindeers, nutcrackers, snow globes, and your own nativity scene: these ornaments provide all the Christmas cheer you need without upsetting the landlord.
Exactly how many ornaments you will need depends on the size of your home and your own personal style, but it is Christmas, so feel free to go overboard! Completely cover the mantelpiece, decorate the base of the tree, and adorn every surface you can find if you so wish. You can find some really unique ornaments on Etsy.
Add other non-permanent decorations
There are loads of other little things you can do to add a bit of Christmas cheer to your rented home without upsetting the landlord. Bringing in some potted house plants is a really great way to add some colour in a non-permanent fashion. Holly, the quintessential Christmas shrub is an excellent choice for a house plant, while Christmas cactus and winter cherry can add a pop of colour to any room.
You may not be allowed to change the carpets or replace the laminate flooring, but you can still bring a more Christmassy feel to your home with a festive rug. Following this vein, couch cushions, throws, and even bed linen can easily be used as non-permanent decoration.
Be careful with candles
Using candles as decoration is a great way to add a warm, festive glow to your home and easily improve any table display. Choosing candles with winter fragrances can instantly get you in the Christmas mood. Bring the smell of grandma's baking into the house with a delicious gingerbread candle or open up your home to the outdoors with natural pine or blue spruce smells. This can be an ideal solution if you decide to go for an artificial tree.
Yankee Candle has a fantastic range of Christmas candle options. Bear in mind that some landlords may not be happy with open flames such as candles and incense, and if they are, make sure you don't leave them on when you leave the house!
Whatever you decide to do this holiday season, hopefully we've helped to make your rented home look warm, welcoming, and Christmassy without upsetting your landlord.