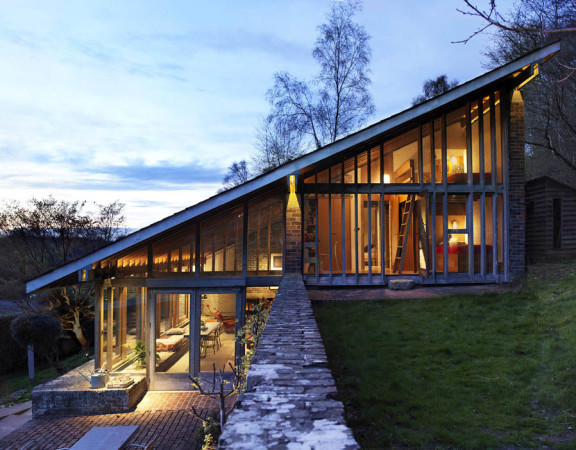 Inspired by fantasy listings online or the breath-taking architecture on TV, roughly 10% of the UK housing market is made up of homeowners taking matters into their own hands and self-building the property of their dreams.
Does having complete control of the design, budget, style, and location of your next home sounds appealing? Well, keep in mind that this route isn't for the faint-hearted – contractor delays, weather delays, spiralling costs and unexpected setbacks are part of the package, so you might want to read these top five tips before you start.
Hire professionals
Unless you're a trained architect yourself, the first thing you need to do when you're ready to embark on your new-build project is to hire a professional. Not only will this help you ensure that the design, layout and structure of your home is technically sound, but investing in an architectural design service will actually add value to your home and help your budget stretch further.
Be aware that there are slightly different specialisms within the industry, and the vision you have for your home will impact which is the better fit for you. Conventional architects will focus on the overall aesthetic and feel of your new home – look for those registered with the Royal Institute of British Architects (RIBA). Alternatively, you may prefer to work with an architectural technologist, who will be more in tune with technical specifications of a complex structure. Lots of firms offer overlapping specialisms, so there's no need to compromise if you need a little of both.
Appoint a project manager
Your next priority should be to decide who you want to manage the process of constructing your new home. It might be tempting to take on this responsibility yourself, particularly if your budget is tight, but it's worth familiarising yourself with the complexities of this role before committing. Those organised individuals that can dedicate all of their time to managing contractors, suppliers, budgets and timelines may find themselves up to the task.
It will be almost impossible to be a successful project manager if you intend to hold down full-time employment at the same time. Instead, consider employing an experienced construction project manager to guide you through the decision-making process (or make decisions on your behalf) and assisting you in supervising the progress on-site.
Like a qualified architect, a professional project manager will be able to help your project run more efficiently, keeping your budgets in check and maintaining order between contractors. While you may initially spend more money, your project manager is likely to foresee, avoid and compensate for costly errors you might not be equipped to handle yourself.
It's never too early to plan
You need to have your Planning Permission in place before you start building, otherwise you risk having your application denied and being legally required to undo any progress you have made. There are two types of permission; 'outline' (which says that you can build on your plot in principle) and 'full' (approving your detailed plans). There may be additional permissions required before you can start work on a listed property or in a conservation area.
Planning departments can take up to 8 weeks to consider your application, and may request additional time if it's deemed necessary. Once your designs have been approved, you have 3 years in which to start building before the permit becomes invalid. Use these timelines wisely to save yourself some money – there's no point having all of your trades lined up and ready to go with the expectation of immediate approval.
For more information about what to include in your planning application, go to the Planning Portal website.
Bigger isn't always better
When faced with a blank canvas, there can be a temptation to make your building design as large and luxurious as possible. The huge movement for 'tiny homes' shows that this isn't always necessary, and that a modest square-footage can actually free up budget to spend on high-tech extras.
Find a designer that specialises in maximising a small space, and you might be pleasantly surprised by how much you can save, simply by thinking small.
How are you going to finance it?
While some people have been dreaming about their self-build for so long that they already have the cash savings in the bank, ready to go, the reality for most people is that they're going to need a self-build mortgage. Self-build mortgages work in a very similar way to loans for existing homes, except the lender will release funds in stages, rather than in one lump sum at the point of completion. The particular stages will vary between lenders, but you can typically expect your first instalment to arrive once you have purchased the land, or once the footings have been constructed.
However you choose to finance your project, always, always have 10% (minimum) set aside as a contingency. The last thing you want is to uncover a major problem, or suffer a contractor delay and be without a home for months on end while you scrape together the cash to fix the issue.
You may also be aware that you can claim back any VAT associated with your project if it's a new-build construction, conversion of a non-residential dwelling or renovating a residential building that has been vacant for at least 10 years. When budgeting, don't forget that the VAT will need to be paid for up-front though. You will need to apply for a refund within three months of your final completion, and include all receipts and documentation.
Bonus Tip
Make your leased living space attractive and comfortable
Surely, you'll find the best rental space at Casas en Arriendo, and you can make it more attractive and comfortable by designing your space with beautiful, grand interior design. Apartments and condominiums tend to have limited spaces, so you have to make the most per square foot. So how can you make your rental apartment or condominium more beautiful and comfortable?
Here are some small space design tips you can try: 
Utilize vertical space

: Because horizontal space is limited, it's good to utilize vertical space in your apartment or condominium to organize things and decorate. Some examples include adding lofty furniture, embracing open shelving, stacking your stuff, using modular solutions, and decorating with freestanding shelving.
Make a room seem bigger by applying new wall paint

: It's possible to make a small space look bigger by using paint colours, such as purple (limited to an entryway or one corner of the room), gunmetal grey (cosy and chic), blue (creates a perception of depth), coffee (creates intimacy combined with a hint of grey), super white, blue-green (beach-like and classic), and pearl-grey (fluctuates with the shadows). 
Decorate without ruining the walls

: One hands-on way to decorate your apartment is putting photos together on a poster paper, canvas, or scrapbook paper. Framing paper collages is a good idea. Hang single photo prints in frames or print them as canvas prints. Decorate the walls using self-adhesive tiles, command hooks, curtain rods, and adjustable tension rods for a hanging garden.
Use mirrors: Mirrors enlarge a small space because of the reflection, creating a double-sized home. Use a mirror as a focal point. Angle your mirror to give the illusion of depth. Mirrors reflect natural and artificial light, making a room brighter, bouncing light deep into your room to make it look larger.
If building your own home is starting to sound like too much work, that's understandable. The combination of financial and emotional investment (not to mention managing your interim living arrangements while work is completed) makes self-build projects far more stressful and draining than buying a ready-made property. On the other hand, if you think you're ready for the challenge, it can be one of the most rewarding experiences of your life.