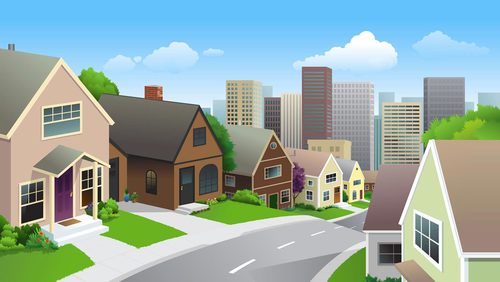 Choosing the perfect location for your property might not seem an important decision… but you don't want to end up living in a rubbish neighbourhood where your neighbours are a nightmare, do you? So you need to take some time to decide.
Make up your mind. You have to have a well defined idea of the kind of property you want, but the essential bit is that that you can afford it. We all want to live in a super nice house with lots of rooms, a garden, and a pool if possible… but if we have a tight budget, we need to be realistic.
Make a "musts list" with the things that are indispensable to you such as supermarkets and shops nearby, bus stops or tube stations at a few minutes' walk, etc. Then you can keep adding those that you would be happy to have around but that are not essential.
Do your research. Do some research of the areas you like – and can afford, remember – and check with your "musts list" if it has what you are looking for. Are there supermarkets and shops nearby? What about transports? Green areas are a plus!
Go and have a look in person if you can. Seeing pictures or using Google maps is great, but if you have the possibility, go and walk around the area you are considering. It is not the same when you see it by yourself. You can even stop and ask the residents in the area discretely if that's a good area to live, if you are lucky they will be honest! Make sure to visit during the day, but if you can, do it as well at night to see if you are totally comfortable with it – We all have learnt from films that all the scary and bad things happen at night, so we better check before we move to the area and find out that we are living in a haunted house!
Proximity to family, friends or work. If you enjoy spending lots of time with your friends and family… it is worth staying close to them or you'll end up driving hours to get to spend a little time with them! Choosing a property that is not too far away from work is a good idea as well as – sadly – you will have to go there most days of the week.
If we want something to work out we need to put some time and effort into it, and choosing the perfect location for your house is one of the most important decisions that you will make, so you better do it.