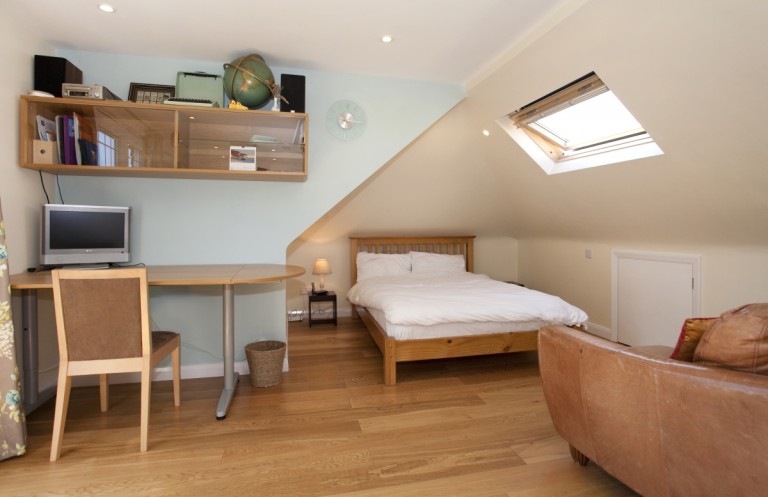 It's official: current twenty-somethings, affectionately dubbed 'Millennials' are now living longer at home with family, and even moving back home after university. The Office for National Statistics (ONS) have released data demonstrating that there are now approximately 3.4 million 'youngsters' aged 20 to 34 still living at home with parents – that's more than a quarter of this whole age group across the UK.
As far back as 2014, a study by Shelter not only predicted this rise in the number of young adults still living at home, but also said that this would exceed 50% within the space of a generation unless affordable housing solutions were found by the government.
But in the absence of such solutions, this rising number of adult children living at home increasingly means more than one generation of grown ups could be living under a single roof. As such, parental homebuyers are frequently taking action of their own to accommodate the whole family – with a jump in demand for homes which offer extended, or 'granny annexe' type of accommodation, as reported in The Times.
Accommodation situation
The ONS survey outlines many reasons why adult 'children' are living at home longer, many of which relate to financial considerations and constraints, such as:
Affordability

– with wages stifled by austerity, a lack of affordable rental accommodation and fast-rising property prices are combining to price young adults out of the UK property market.

Saving

– these same young adults now need to stay at home longer to save for a property deposit, especially as the average amount needed for a first time buyer deposit has also increased in line with rising property prices.
A ready example of this is in London, where the average price of a first time buyer property hit the highest on record in July 2017, at £409,975, compared to the general UK average of £207,693 (Halifax First Time Buyer Review).
Education costs

– young adults are also struggling with financial headaches caused by steep university tuition fees (and living costs). These issues have created a rise in 'commuter students', young adults attending university but still living at home in an effort to cut ongoing costs and forthcoming student debt.
Whilst annexes and extensions have traditionally been considered as potential additional accommodation for older relatives to be part of the family home, but with their own space and independence, the above financial considerations and chronic housing shortage now mean that extended living accommodation is needed on a multi-generational basis which includes Millenials too.
All grown up … and going up
Although planning consents have been regraded to offer 'light touch' planning in response to the housing crisis, making it easier for home owners to extend and improve the accommodation they have and fit in families of grown ups, large ground floor extensions can still be prohibitively expensive.
But whilst ground-floor living may be essential for accommodating older generations of the family, when the generation which needs accommodating is still relatively young going up into the roof can be the less expensive, lighter-planning and younger-legs alternative to building out.
Attractions of attic accommodation
Ironically, converting a loft for extra accommodation doesn't have to result in a feeling of living on top of one another, as there are several ways in which a loft conversion can create attractive accommodation which fits both family living and the whole family's finances:
Value added

– whilst the conversion will obviously cost money it can be a useful way of spending on the home with a potential return on investment:

Nationwide

suggest a loft conversion can increase the value of a property by 21% and

Abbey Lofts

find this could be 24.5% in London.
What Mortgage also advise that adding a new floor "can often add significant value, particularly in high-demand urban markets."
This means that for many parents, helping adult children save for their own place by creating accommodation for them could bring an increase their own property value – a win-win for everybody.
Versatile accommodation – creating a loft conversion which incorporates a design such as a master bedroom suite can allow semi-independent, self-contained accommodation, which always has potential to be used as a guest room after adult children finally leave home.
If the loft space is extensive and can be divided up to offer additional spaces alongside a master bedroom suite, such as a kitchenette, then it's possible to facilitate as much independence (and accommodation for alternative uses) as necessary. To keep the space light and airy, transparent materials can be used.
No storage sacrifice

– converting the loft doesn't necessarily mean having to sacrifice the rest of the family's storage space. Professional loft design includes plenty of ideas for installing custom furniture and building storage into eaves, and creating space-saving, storage-solution stairways.

Claiming the space – as well as offering a versatile accommodation solution, converting the loft in order to gain accommodation for adult children doesn't necessarily mean they have to be the ones using it. An alternative consideration is to create a luxury Master Bedroom as a sanctuary for yourselves as parents, then pass the old parental bedroom to the uni-student offspring to use as well as their old bedroom, so they have a bedroom and a study or leisure space, whilst as the home-owners you get to enjoy a bespoke bedroom.
Solution smallprint
As with any proposed accommodation solution, it's essential to consider the small print. If you're creating accommodation in the loft, ensure you:
Take fire safety advice and work in compliance with fire safety regulations. This is especially important if your design will include a kitchenette, for example, to help ensure that the whole family isn't just accommodated, but is also as safe as possible.

Consider sound transfer to and from the rest of the home, particularly if other bedrooms are on the floor below the loft room. Acoustic insulation materials are available to suit most loft conversion budgets, so check with your loft professional about suitable products to suit the situation.
Finally, back to where multi-generation living began, with the grandparents. Although you might be considering a loft conversion to accommodate those twenty-somethings now, this versatile accommodation option can also benefit the family if one of the older generations needs to move in later on: a family member with those younger legs can move on up there, to allow room-shuffles on the floor or floors below, making space downstairs for one of the older generation to move into.
As such, a loft conversion can really offer the space solution for all generations of the family, now and in the future.