London's Southbank, the long strip running parallel to the winding River Thames and connecting County Hall to Waterloo Bridge.  With hundreds of shops, bars, restaurants, markets, street entertainment, theatres, cinemas and much more it offers an eclectic mix of the old, the modern and the plain odd. 
Queen Elizabeth Hall  (QEH)
With its multi-storeys made out of grey brick, the QEH's brutalist design resembles a car park. But this rather dull, minimal decoration allows multiple access points around the building. With an auditorium (used for various musical events) holding up to 900 guests and with connections to the roof top terrace and an underflow for skate boarders, easy access is very important.
Image source: www.london-attractions.info
The QEH is part of the Southbank Centre, which also includes the Royal Festival Hall, Purcell Room, the Hayward Gallery, and the Saison Poetry Library.
 BFI – IMAX
Just off Southbank is the London IMAX Cinema. Sat atop a roundabout, in the middle of the busy Belvedere road, it looks enormous. Dome-shaped with large rectangular glass windows and a jet-black roof it resembles an alien launch pad. With the biggest screen in Britain it is a hugely popular place to enjoy the latest blockbuster.
Image source: http://www.e-architect.co.uk/london/bfi-imax
BFI – Southbank
The BFI's sister venue is BFI Southbank, which sits back on the river. It emulates the large rectangular windows of the IMAX and also incorporates scaffolding-looking poles that connect the floors.  It has two bars, a cafe, a gift shop, an outside area and various film screenings.
Image source: www.londonrendezvous.com
Tate Modern
The Tate Modern is the most visited art gallery in the world and sits inside the former Bankside Power station. With a sole beige chimney protruding out of the red windowless brick it is not an obviously pretty sight. But it's the scale and history of the building that impresses most.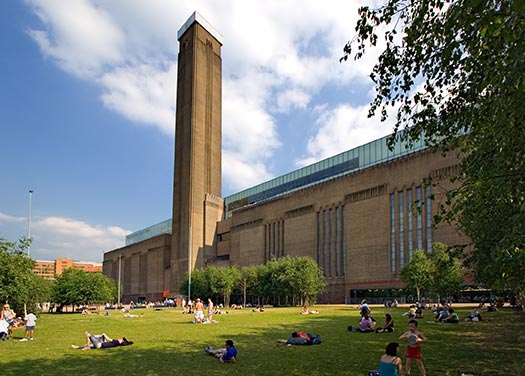 Image source: www.grusol.it
Battersea Power station is currently going through similar redevelopment with their new residential plans.
 OXO Tower Wharf
Like the Tate Modern, the OXO Tower began life as a power station and has gone through many changes and refurbishments since then, including being bought by the company that makes OXO stock cubes (hence the name). It now features a gourmet restaurant, which I am told has not incorporated a stock cube theme…
Image source: www.travelstay.com
It is part of Coin Street Community Builders (CSCB), a social enterprise scheme seeking to continue the improvement and development of South Bank.
The Old Vic
This Old Vic is nearly two hundred years old and has hosted thousands of plays since it opened. Between then and now it has been bombed, closed down, refurbished and reopened and now feels oddly both old and new. It also boasts the Old Vic tunnels, a labyrinth of passageways underneath Waterloo train station. Events and plays have been held in them since 2010.
Image source: http://it.wikipedia.org/wiki/Old_Vic
Back on the Southbank, there is the National Theatre, which formerly doubled as the Old Vic (between 1963 and 1976) but is now a popular theatre in its own right.
Written by Gareth Brown