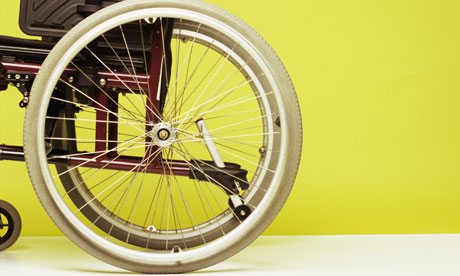 Finding a property in London can be difficult at the best of times, but finding an accessible and disabled-friendly property is nigh-on impossible. The accessible homes market is extremely limited, with only 5% of UK homes sufficiently accessible for a disabled person to visit (English Homes Survey 2014 hyperlink). On top of this, it is estimated that 40% of disabled people aged 16-24 do not live in suitable accommodation, showing that there is clear demand for more and better accessible homes.
In a recent Guardian article, writer Ed Todino details his own unhappy experiences trying to find an accessible home that allows him to retain his independence. Todino, like many young disabled people, is a recent graduate looking to find an affordable and accessible home in London to share with his able-bodied friends. Part of the problem for Ed is that he does not want to live in a pre-adapted property and would much rather find a property that, with a few minor adjustments, could house both him and his friends comfortably.
"I don't think living in pre-adapted accommodation is beneficial or healthy for someone my age who is looking to engage with their peers and integrate with society." – Ed Todino
Unfortunately for Ed, landlords in the capital, with an influx of potential renters, tend to favour able-bodied tenants as they are an 'easier let' and require little work doing to the property. With high demand for rental properties, especially in the capital, potential renters are often advised by estate agents not to ask the landlord for too many adjustments to the property. However the difference between changing the wall-paper and installing a wheelchair ramp is that the latter is a necessary and essential improvement. There is a real need for landlords and estate agents to be accommodating and less dismissive towards disabled-friendly adaptations if we are to avoid an accessible homes crisis.
The sales market for accessible homes it not much better. Part of the problem with the accessible homes market is that vendors putting a property with disabled-friendly improvements on the market will often be advised by estate agents to tear out these improvements to increase the chance of a sale. Very few agents have dedicated accessible homes departments and most are not prepared to tailor their marketing towards disabled house hunters. This leaves vendors with the prospect of ripping out £10,000-£20,000 worth of carefully thought out improvements to their homes – not an attractive option for most sellers.
Due to all of the above, in many cases a direct sale (or for sale by owner) is the best option for accessible home-owners looking to sell. The House Shop, having identified the demand for affordable and accessible homes, offers free listings and property advertisement for accessible or disabled-friendly properties and has an entire area of the site dedicated to the accessible homes market. Unfortunately, The House Shop are one of only a few property services that cater to the market in this way. The Accessible Property Register is another site that caters exclusively to the accessible homes market and specialises in finding disabled-friendly holiday accommodation as well as residential property.
Nick Marr, partner at The House Shop said:
"The problem that owners of an adapted or modified home face is the lack of willingness by some estate agents to market their homes. We have been helping put buyers and sellers together since 2000 as owners approached us wanting to use our 'For Sale By Owner' or private house sale services. I speak to people every week experiencing problems with agents asking them to rip out the adaptations before they take on the sale. We offer free advertising to home-owners with adapted homes. The good news is that we work with developers and builders who allocate units that are aimed at individuals that require barrier free homes."
Another issue is that there is some naivety and misunderstanding of what qualifies as an 'accessible home'. The House Shop have put together a list of features that would help make a home accessible and disabled-friendly, these include:
Access to upper floor(s) via stair lift
Level access to garden/grounds
Access to upper floor(s) via wheelchair lift
Level or ramped access to the property
Adapted Bathroom
No steps on approach to property
Adapted Kitchen
Off-street or unrestricted on-street parking
Entrance level bath or shower room
Sheltered Housing
Entrance level WC
Stair lift
Environmental or SMART controls
Supported living (warden or other assistance available on site)
Fixed or tracking ceiling hoist(s)
Wheelchair Access
Intercom/entry-phone (may incorporate remote door opening)
Wheelchair Lift
Level access shower/wet room
Wide Doors
Level access to all main living floor rooms
Wider-than-standard doorways
Infra red key fobs
So unless estate agents and landlords re-evaluate their approach to accessible homes, it is likely that the private sales market will be the best option for sellers wanting to make the most of their accessible improvements. Instead of being down played or dismissed, a direct sale allows the owner to promote their carefully thought out improvements, and sell their home safe in the knowledge that all their hard work will be appreciated by a new owner who can live an independent life in an accessible home.
Check out The House Shop's Accessible Homes video for information and advice.
Click here to find accessible homes for sale from across the country
Franki Chaffin-Edwards