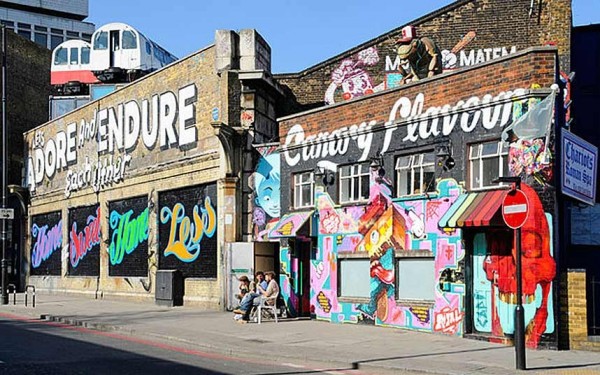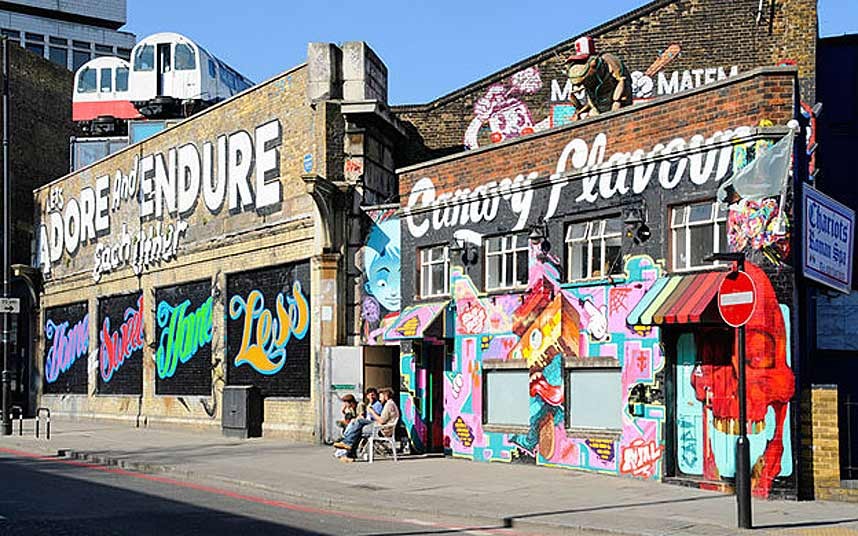 Shoreditch is in the borough of Hackney, and is claimed to be the new Soho. Shoreditch has been attracting many people to visit and live there, as a quirky area with an indie style. It is recognised as the home for the hipsters as it full of edgy and arty things to do. The term hipsterfication is described in link to the transformation of this previously run down part of East London. Over the past 10 years of the transforming Shoreditch, it has become a fast growing international centre, especially for the arts, bringing a great energy and presence to London.  Its new and modernised, and who wouldn't want to live in this exciting place, that's full of life. But for those who are novices to this area, we've given you a run-down of the very best of this East London delight…
Attractions and Things to Do
The three main locations in Shoreditch are Old Street, Great Eastern Street and Shoreditch High Street, where you'll find the urban edge in which there is plenty of things for you to do.
The Cereal Killer Cafe in Brick Lane has become a sensation, which is full of colour and character, where you can try from over 120 cereal choices, and other breakfast choices such as poptarts and cocktails. It is definitely a place to visit when in and around Shoreditch, I mean everyone is either raving about it or desperate to go there as part of their bucket list.
If clothing is more of your thing, why not take a trip to Boxpark. Based conveniently next to Shoreditch High Street and Shoreditch overground station, you'll find a range of the trendiest clothing and art labels from the exciting Nicce London, Just Hype to the bizarre Tusch Und Egon, a design shop where you can buy a 3d printed ceramic sculpture of yourself! No honestly, you can.
If you're a keen athlete, get your boots on and join the Shoreditch Powerleague. Dispelling the myth that there is no room to play football in the capital, Powerleague provide 5-a-side playing fields where you can enter a team to take part in regional and national competitions. If you're looking for that extra kick, why not try Bubble Football. Quite simply, you are placed into a giant plastic bubble where you can run around the pitch bashing in to your friends whilst trying to coordinate a game. But to be honest, its a lot more fun to inflict bouncing pain on your mates.
The markets are no disappointment either with the Brick Lane Market every Sunday, with the shops and restaurants being open throughout the week too. It attracts lots of Londoners for its second hand furniture, unusual clothes and miscellaneous objects. Also, the Old Spitalfields Market is the perfect shopping destination being open 7 days per week, full of impressive stalls and shops that altered each day to offers shoppers with lots of variety, from vintage to antiques. Along with the market there are events that take place such as pop up fairs.
Social
Shoreditch is most definitely a very social and full of life place, filled with a ray of different people, with lots of popular get together hotspots. There are many cheap and cheerful places to eat such as Vietnamese restaurants like Song Que and Kêu, and Open Kitchen where prices are unavoidable. There is also the rising club scene in Shoreditch, where you can find lots of choices which will take the liking to everyone's music taste. Places like the Book Club and XOYO are some of the favourites, both found on Old Street.
The Shoreditch Butchery, found in Cowper Street, is the perfect pre-drinks venue. Located next door to XOYO, this rustic bar provides a wide variety of craft beers and quirky cocktails. Once you feel suitably relaxed and you suddenly have obtained your great dancing skills through dutch courage, just make the short trip next door to one of the capital, arguably the countries, top nightclub venues.
Being one of the coolest areas in London, Shoreditch is never short of things to do in the evening. The nightlife in East London is alive and well and party-goers looking for their next nightclub buzz make the journey to the various bars and clubs in Shoreditch. A very popular bar, found on Great Eastern Street, is The Old Blue Last. This recently refurbished boozer was purchased by culture conglomerates Vice and was transformed from a dingy, drinking hole to a hipsters paradise. The pub also has a habit of finding the best new bands, with the likes of the Arctic Monkeys, Foals, Florence and the Machine as well as the late Amy Winehouse, all performing many of their early shows at the venue.
There's always something for you to do in Shoreditch, so why not live there?
It is very central to everything, with great transport links and is walking distance from the city of London itself. Central Shoreditch by Old Street is where you'll find mostly converted lofts into flats, which are unsurprisingly pricey. However, nearer to Hackney Road or Bethnal Green Road, prices are decreased, where you can find shared houses which are affordable – great for creative individuals! Needless to say, the price of London properties are slowly on the rise year by year so its best to buy now! If you think Shoreditch is the place for you, check out The House Shop for further information and property listings in Shoreditch for sale and to rent.
Find Properties for Sale in London and the Surrounding Area: