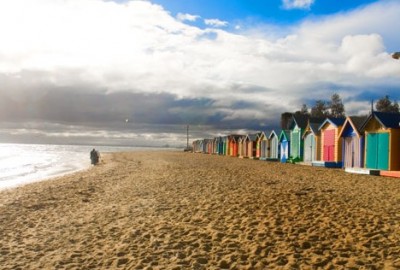 It's summer season in the UK, so here is a list of the best beaches including information on things to visit and adventure to this summer:
Watergate Bay, Newquay in Cornwall
Watergate Bay is one of the most popular beaches in Cornwall, with a lot of filming that has taken place there. It is host for a variety of activities like surfing and is a beach that is dog friendly too. It has a large open bay, along with two miles of golden sands and lots of caves,rock pools and cliffs to explore. You can also visit Jamie Oliver's restaurant 'Fifteen Cornwall' and stay at the Watergate Bay Hotel which is great for kids and has views that overlook the beach.
Slapton Sands Beach, Devon
Along the Devon Coast is the Slapton Sands Beach  which is a great exploring beach, even though it is not entirely sandy. It is a three mile shingle bar, between fast waves of the sea to the fresh water lake. It is known for being its beauty and peacefulness. It is ideal for a family and friend holiday, with sport activities available from windsurfing to canoeing as well as allowing dogs to roam all year round. You can adventure around the wildlife and the Nature Reserve, particular good for any geographers. The whole stretch of this particular coastline has been classed as an Area of Outstanding Natural Beauty and is a great place to visit at any time of the year.
Freshwater Beach, Pembrokeshire in Wales
This beach is ideal for the surfer because it faces the south west, which means it has perfect waves from strong currents. The beach has a large scale dune system for coastal care for its wide spread of sands. It is also known for some filming there, especially 'Harry Potter and the Deathly Hallows,' for any Potter fans you can walk along the coastal paths and the footsteps of the film stars. The Welsh National Surfing Championships are held at Freshwater West annually during the first bank holiday in May. There are also plenty of places to stay with hotels, B&B's and guesthouses located around the beach area of Pembrokeshire.
Portstewart Strand, Northern Ireland
Along the North Coast is the Portstewart Strand, with a two mile stretch of golden sands this beach is one of the finest in Northern Ireland. It has amazing views, along with headlands and cliffs. It is an ideal place for family holidays, with great places to sit and laze around, also good for those keen explorers with long walks along the sand dunes to view butterflies and flowers. In addition, the location is a nature conservation site with marked trails and the Bann Estuary, so has a lot of value to it. The Causeway Hotel and Portbradden Cottage are named as great places to stay, so there is plenty of time to explore this precious beach.
Sandwood Bay, Scotland
Sandwood Bay has miles of bright sands and dunes, with rocky cliffs and a large sea stack. It has picturesque views and plenty of walking routes around the area, great for challenging those adventurous families and friends. It is managed by John Muir Trust, a conservation charity, which helps to preserve its precious wildlife and landscapes. However access to the beach is challenging as it requires you to park in Blairmore where there are public roads, then visitors have to walk their way to the beach, these walks anticipate great views. The beach is definitely ideal for exploring cliffs to the loch, also visitors can adventure in search for Seton Gordon's wrecks.
Go spend your time in the sunshine, where the sea is sparkling and the sands are golden, even in the UK!