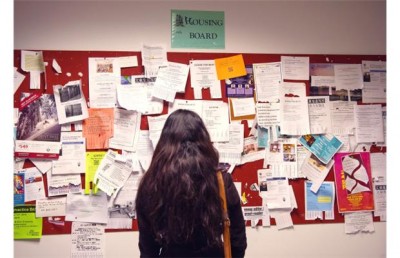 The issues surrounding the student rental market in the UK have been overshadowed in recent years, perhaps due to the political value of subjects like tuition fees and league tables. But accommodation is a huge part of the student experience, and changes in approach can have a major effect on both current and future students.
An increase in privately owned student apartment blocks and improvements to university-owned halls of residence may suggest that better quality accommodation for students away from home is more accessible than ever. However, rental costs of these properties are soaring, and after their first year at university young people often choose the more traditional route of relying on local – often student-specific – letting agents. But with so many options and yet an apparent lack of enforcement of regulations when it comes to the quality of both the properties and services being provided, are students losing out when it comes to their housing?
Despite many high street letting agents turning their backs on the student market, many agencies and landlords have emerged claiming to be targeted at young people. Unfortunately some appear to use this sector of new renters to their advantage by offering a standard of housing and services which would be seen as substandard in the mainstream property market. The result is not only poor living conditions for tenants but also potential damage to the reputation of those companies who do strive to provide a good quality service.
The examples are countless and no doubt recognisable to many. The statistics that have been reported are shocking; last year's 'Homes fit for study' research by the National Union of Students found that over three quarters of students had problems with their homes; damp and mould, faulty appliances and infestations of vermin being just some of the issues being faced by students year in, year out – with landlords often pointing to low prices as justification.
While some may argue that a lack of education and experience of renting are to blame, it would be unfair to deny that most students are well-informed when it comes to their rights and are therefore frustrated about the lack of options available for dealing with any issues they face. But while there is a wealth of advice and information for tenants about what their rights might be, following through proactively with real solutions often proves difficult. What's more, after leaving university students rarely have the reason or means to follow up on any problems or disputes they may have faced during their tenancy. Many move to other locations, perhaps away from their former housemates, and new, unsuspecting tenants take over properties, meaning that landlords and agents have little or no motive to improve.
That is where Move'm comes in. Set up two years ago, the company allows students to leave reviews of properties and estate agents or landlords, and helps students to find trusted letting agents in their area. They can also comment on halls of residence taking into account relevant information such as the distance to universities, internet, and satisfaction over returned deposits. Describing the concept as "a true solution to a real problem", managing director Peter Ramsey started the company as a local solution to his own negative experiences in Bournemouth, but now wants to help every student in the UK by improving industry standards.
This is not just a place where graduates freely criticise unsuspecting ex-landlords; replies from letting agents are available and encouraged. Many of the reviews are extremely positive, meaning that good quality services are consequently promoted by word of mouth, something which is often lacking for newcomers to a university town or city. As Ramsey explains, "We need to rebuild trust in letting agents; the majority are lovely and hard working, but it's an industry let down by an unnamed minority."
At a time when the social and financial position of students is under constant scrutiny, one big positive of review websites is the voice they give to students when it comes to their housing. Where they were once expected to move on quietly, deposit in hand or not, they now have the chance to spread the word about their fantastic housing or warn others from the same struggles that they have experienced. In turn landlords may think more carefully in the future about the services they provide. Charging tenants to live in substandard, unpleasant, or unsafe conditions is not only unacceptable, but the age or occupation of renters should not be seen as an excuse to do so; fortunately, the rise of companies such as Move'm means that it will not go undetected for much longer.
To find out more, visit www.movem.co.uk . To find out more about rights for tenants and landlords, go to https://www.gov.uk/private-renting/your-rights-and-responsibilities and www.nus.org.uk .