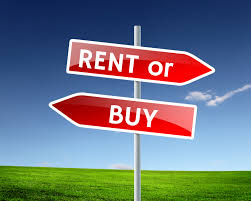 There is this standard belief that buying is better than renting… but, is it really? Each of the options has its pros and cons, and if facing such a big decision anytime soon, you should really consider all the factors. In order to help you out, we will summarize the main advantages and disadvantages of buying and renting, trying to avoid technical terms that barely anyone understands.
Buying
PROS:
It gives a sense of security – and let's assume it, prestige as well – to the buyer as the house will be his property once it is completely paid.
It is considered a long-term investment as the owner can later sell it and earn a profit if the value of the property has increased over the years. You can also generate income from your property by renting some rooms if you do not really need them.
You have complete control over your property. You can alter any part of the house whenever you feel like it, which includes renovations, decoration changes, etc.
CONS:
It is a big financial responsibility. The initial down payment involves usually using your savings, plus you will probably need to get a mortgage as well as paying the usual bills.
Regarding house maintenance, it is in your hands to fix everything that breaks or stops working – as well as paying for it.
You'd have less mobility as it takes longer to sell a house than to give one month's notice to the homeowner when you decide to leave the house.
The homeowner's insurance is mandatory if you have a mortgage while it is only recommended when renting.
Renting
PROS:
It means more money in your pocket as it has a much more reduced up-front cost. Generally, new tenants are just asked to pay the first month in advance and a security deposit that you can get back if the house is in good conditions once the contract expires.
It gives you more flexibility. This is important if you know you have a job relocation ahead, you are a student and look for cheap places near universities, etc. Remember that renting means a no long-term commitment as you can leave the house with just one month's notice whenever you need to.
Maintenance costs are on the owner. It does not matter if the shower breaks down or a pipe suddenly decides to explode, the owner is the one in charge of taking care of it, and what's more, paying for these expenses.
CONS:
You are bounded to the lease agreement, so you don't have that much freedom to use the property as you please – sorry, that means no wild parties that trash the place and bother the neighbours! The landlord would find out and you'd be in trouble – or make changes without the approval of the homeowner.
There is no guarantee that the contract can be renewed once the lease agreement expires. The owner can decide to rent it to someone else, use it himself or not rent it at all.
Renting does not generate wealth nor is an investment. Homeowners can deduct from taxes the interest paid on their mortgage loan, which does not happen when you decide to rent. Furthermore, the property does not belong legally to the tenant, so you are not able to sublet unless your landlord approves it.
There is no right or wrong answer when it comes to determining whether you should rent or buy. Your financial situation and the state of the housing market will help you to make up your mind. Just make sure you take into account all the pros and cons and ask yourself the right questions before making a decision – How long are you planning to stay? What are your future plans? Are you able to finance a home purchase? So, the only thing left for me to say, it does not matter if you decide to buy or to rent, is… Good luck house hunting!
Useful links:
https://www.gov.uk/browse/housing-local-services/owning-renting-property
Click here to find homes to rent from across the UK
by Sandra Martinez