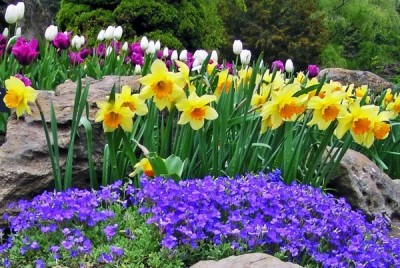 There are a number of things that can be done well in advance to ensure that your garden will be ready come springtime. For traditional spring flowers such as daffodils and tulips, as well as early flowering plants such as snowdrops, bulbs should be planted around September of the previous year. A little forward thinking pays off, though, as tulips especially come in a variety of shapes and colours to brighten up the borders of any garden.
But if you haven't already planted bulbs for this year there are still plenty of things you can do to bring colour and light to your garden. Pot plants and hanging baskets are a great, easy way to enjoy flowering plants, and also have the bonus of being versatile for small gardens, yards or even balconies. Pansies and irises are just two examples of many beautiful flowers that prefer cooler weather, but there are many other early blooming plants and trees to choose from.
Pot plants also give you the opportunity to brighten up small spaces. Don't worry too much about matching colours and sizes as it's better not to overcrowd larger plants, and a mixture of shapes can add interest and make better use of space.
There are also many flowering trees that look stunning in springtime; think fruit trees such as cherry, plum and apple for beautiful pink and white blossom.
To get your garden ready for warmer weather, there are a number of other things to think about as well as plants and flowers. As the days get longer and the weather improves you may want to sit outside and make the most of the sunshine! There are many choices when it comes to outdoor tables and chairs, as well as decorations and accessories for making the most of even the smallest of outdoor spaces. Candles and fairy lights look lovely in the summer, but try making tea light holders from old cans by punching small holes in a pretty design and painting them different colours – then you won't have to worry about leaving them outside during the April showers.
Another idea to consider for spring gardens is a pond or water feature. Not only will it attract wildlife but it can provide you with another option for displaying flowers and plants. There are many guides to help you get started with information about how to install and nurture a pond, as well as how to choose the right shape and style for your garden.
by Emily Garside