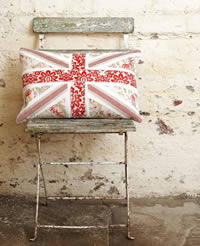 The 1940s was most famously the decade of World War II, which had a massive impact on people in Britain and abroad. Everyone had to endure the hardship of wartime living, and the implications this had on all aspects of their daily lives. The effect of war was still felt in the years to follow, but there was also great celebration when it ended in 1945.
The décor of the 1940s
For the first half of the decade certain features of the 1940s home were wartime requirements rather than design features; bomb shelters, blackout blinds as well as the imposed austerity had an effect on how homes looked at the time.
When it came to decoration, the colour palette was subdued, made up of pastel and earthy tones. At the same time, floral patterns were popular, particularly for soft furnishings and textiles.
Utility Furniture
As a response to a shortage in raw materials used to produce furniture, the Government introduced the Utility Furniture Scheme, to provide homes with pieces made from durable timber which were simple and minimalist in design.
In 1942, the Utility Furniture Advisory Committee was set up and the production and buying of new furniture – just like food and clothing – was restricted for the public. Utility Furniture bore the same logo as rationed clothing (see below).
How to recreate the look
The 1940s way of using pattern was to incorporate the same design in different places around the room. Update this by choosing mismatched patterns and prints that complement each other in colour and design.
You could also adopt the 1940s approach to colour; choose one or two shades you like and use this throughout your room on walls, floors and textiles. This works especially well in modern homes and apartments to bring living spaces together, such as a kitchen and dining room. Choose simple, classic furniture in polished wood to keep the look fresh.
Another idea for a nod to the forties is to choose patriotic touches such as red, white and blue colour schemes, union jack prints and bunting for a look fit for a vintage street party!