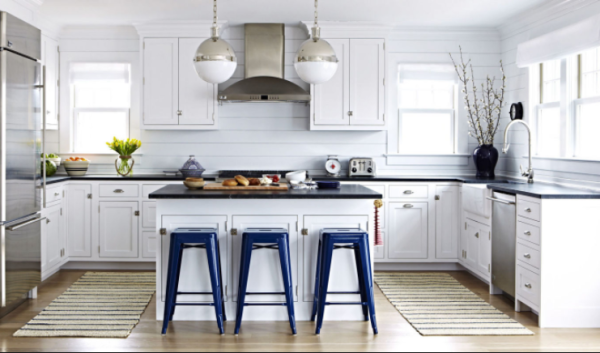 When it comes to a kitchen renovation, a lot of thought and consideration needs to go in to ensure that you spend your money wisely and get results that'll be durable and aesthetically pleasing. Whether you are looking to strip the whole room or add a few finishing touches here and there, these tips will kick start your journey to a beautiful new kitchen.
Display Areas
If you have an empty shelf or large enough window-sill, then adding a few bits of decorative pieces can really add personality to the kitchen and make it more attractive. A few flower pots with your favourite flowers or herbs in will add colour to the room and give it a positive, uplifting vibe. Filling in any dull gaps with a small piece of décor will instantly make your kitchen a more pleasing place to be.
Splashbacks
You may already have a splashback, and if you do, it's highly likely that it is stained with all your wonderful cooking. If this is the case, then it is time to get a new splashback which can be easily cleaned yet still look beautiful. If you don't currently have a splashback, then investing one will save you hundreds of pounds down the line, as your walls won't be at risk of spoiling. Lucky for you, there are many cheap splashback materials out there, which come in a range of colours. A plastic sheet from Simply Plastics can be used as a splashback and is far more worthwhile; plastic is easy to clean, easy to install, durable, and far cheaper than alternative materials.
Take Advantage Of Colour
If you have a certain kitchen theme in mind, then you probably have a statement colour which you intend on incorporating. Recently, many homeowners tend to opt for reds, blues, and greens; when used tastefully, these colours really make the kitchen pop! Take advantage of your chosen colour… but don't go overboard. Perhaps use your chosen colour and apply it to the blinds, the kettle, the microwave, and a few other little accessories. This'll really help to modernise your kitchen without looking too 'in your face'.
Lights
Built-in light bulbs work excellently in kitchens, and can even be installed in cabinets and cubby-holes. When it comes to your kitchen, it is probably best to avoid lampshades, as these can very easily become stained from frequent cooking and aromas. Stained lampshades look incredibly dirty and will have a very negative impact on your kitchen.
Use Wall Space
If you're looking for a minimalistic approach, then this option may not be for you. However, adding some things to your wall space is a great way to add a personal touch to the kitchen. This could be done by adding shelving for photos or trinkets, or a memo board to note down your meals for the week/important reminders! There are plenty of ways to use up wall space, and they are all sure to be perfect additions to the kitchen.
Take a look at this infographic which explores innovative ways to use plastic in your kitchen; it'll be sure to save you a lot of money!