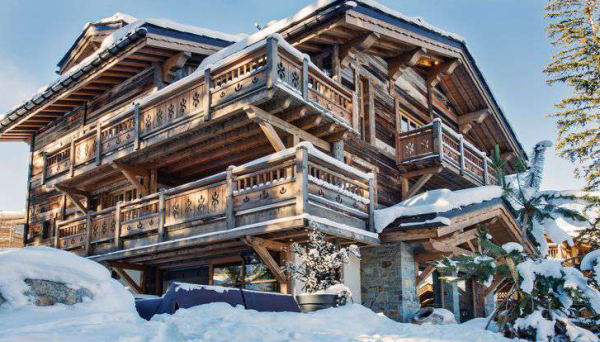 In this blog post, dedicated to the luxury end of the property market, we showcase the ultimate holiday home in the mountains that we can only dream of – and why not? With the prospect of a second home growing dimmer and dimmer for the majority of Brits, as the UK's property prices continue to escalate, we take a look at how the other half lives.
Well, if you can't beat them, join them in celebrating their fiscal success! Here at TheHouseShop.com, we have collated the must-have added features any self-respecting billionaire will need for their charming, luxury chalet.
Demand for luxury ski chalets has imploded across the popular ski resorts the super-rich frequent in Europe and the US. With many developing new luxury chalets, from Gstaad, Verbier, Klosters and Kitzbühel in Europe and Eagle Point, Beaver Creek, Aspen and Vail in the US, they are quickly becoming a popular choice for their second home.
If you are in the market for a property at a ski resort, then don't forget to take a look at our international property page, we wish that we could snuggle up inside one of these spectacular chalets, however, we will have to make do with looking and dreaming for now!
If you like what you see here, then you will love our Dream Homes – Ski Chalet Interiors Pinterest board.
The Swimming Pool
No luxury chalet is complete without one of these! Swimming is a fantastic way to unwind after a hard day on the slopes and it's perfect for entertaining the kids after the excitement of ski school.
With so many different designs available for this addition to the luxury chalet, billionaires are spoilt for choice. Do you go for an indoor or outdoor? Do you include a water slide? And most importantly, what are the Jones's doing with theirs?
When the budget is immaterial, you can really go all out on this feature for your luxury holiday home. Here is a selection of the very best chalet pools, so you can come prepared when meeting with your in-demand architect.
This indoor delight in a luxury chalet in Verbier, Switzerland makes the most of its location, incorporating the stunning views of the mountain peaks into the design of the indoor swimming pool and is currently listed on TheHouseShop.com's international property listings.
This glamorous, contemporary swimming pool comes with its own wrap around terrace, so you can enjoy the views whilst you are doing your morning laps, warming up for a punishing day of heli-skiing.
Our favourite indoor pool from a chalet in Courchevel, France, is the absolute dream offering the luxury of both jacuzzi and swimming pool in a tasteful design and with great views to enjoy.
The Outdoor Pool
For those a little more adventurous, we just had to include our favourite outdoor swimming pool. This is a fantastic example comes with plenty of lounging space, for the residents to enjoy the outdoor space when the weather is fine.
The Hot Tub
Of course, if you are not that interested in swimming, then you can always opt for a hot tub instead. We love this one where you can enjoy the incredible views of the mountains, whilst sipping on your champagne, sheer bliss.
The Gym
Is an essential room to have in your luxury chalet, for those days when the lifts are closed, or you just don't feel like putting your ski-ware on, but you still want to work up a sweat in the comfort of your own home.
The addition of a TV makes this room feel more like a serious gym when you're away from home, as you can watch your favourite shows whilst pounding away on the treadmill. This space is a lot more welcoming when compared to many hotel and guest chalet gyms, with a good amount of space to do aerobics or yoga too, this is a versatile room for all of your fitness needs.
The Kid's Rooms
What could be more exciting for the children than bunk-beds when you go on holiday? Parent's will soon be fed up with hearing the boasting of "I've got the top bunk" from their kids and with rooms this stylish we can't argue with them! What can be a better way to splash your cash, than to add a room specifically designed especially for your little ones?
The kid's room is a must for the Billionaire's luxury chalet and we have selected our favourite ones below.
We just can't get enough of this traditionally decorated, cookie-cutter style kids room. These bunk beds are adorable and it even comes with a carved, wooden rocking horse and dinky stool. This is definitely Yummy Mummy heaven, with many luxury chalets going along a contemporary route for their interior design, it's nice to see some sticking to the old-fashioned, rustic decor.
If squeezing in all of these luxurious extras into your chalet is taking its toll on the available space, then incorporate the playroom into the kid's bedroom. We love the old-fashioned, train-cabin style bunk beds in this example and you're kids will too.
This contemporary take on the bunk bed will suit your teenage children as the pared-back design is much more suited to this age group. Why not make them feel special by re-designing their bedrooms?
Recreation Rooms
With so many options available for the entertainment features of your luxury chalet, we have highlighted a selection of the most popular ones that chalets offer to their guests.
The Games Room
What better way to shoot the breeze with your buddies as you warm up for après ski drinks than a round of pool? Our dream games room would also include a board game table for those no snow days to enjoy a bit of scrabble or articulate.
The Library
Everyone knows that the ultimate luxury of your holiday home is its very own library. Our favourite one would come with its own reading nook and desk, so you can catch up on your work emails during your stay. Well if you have to work during your break away, you might as well do so in comfort and style.
Kid's Playrooms
Don't forget the playroom, an essential part of any luxury chalet, so that you aren't disturbed by your little darlings busy at play, allowing you to get on with your holiday in peace.
We just love this kids playroom, from the juxtaposition of the traditional interior style and the contemporary toys contrasting nicely, the room is a little idyll for children to escape to after they come home in the afternoon. Don't forget to add bookshelves and comfy sofas for your nanny to supervise the fun!
 The Home Cinema
With so many of the super-rich installing these in their homes, they have come to expect the same luxury when they invest in their holiday homes too.  We prefer these luxurious home cinemas, as they keep elements of the traditional chalet design in an effort to combine the old with the new.
The Spa
No ski holiday experience is complete without a trip to an alpine spa, so any discerning multi-millionaire should definitely make room for one in their private chalet retreat. With every resort having trained massage therapists and beautician's on hand to provide their services day and night, it would be foolish not to include this extra.
Following the strenuous exercise on the slopes, it is often recommended to wind down in a sauna or steam room afterwards, to give your muscles a break to recover. For this reason, we have also selected the best home sauna and spa designs below.
The Wine Cellar
For the wine aficionado, we have included the chalet style wine cellar, impress your guests when they drop by for a weekend mini-break with your very own capsule vintage collection.
The Ultimate Dining Experience
A crucial part of the luxury chalet to get right is the dining room. Where else will you entertain your guests or close that pesky business deal? Avoid the crush at the nearest Michelin starred restaurant, you don't need to book a table when you have 24/7 staff on hand and settle in for a long evening sipping your Chateau Latour 1961 instead.
We have selected the most stylishly decorated dining and breakfast room, so now all you need to do is locate your Ralph Lauren Home VIP card to kit them out.
Dining Room
Breakfast Room
The Ski Storage Room
The must-have feature that every luxury ski chalet will need is a place to store the ski and snowboard equipment of course! Here is some examples sample of storage solutions that you can choose from to add to your chalet.
The Underground Car Park
Last but not least, any billionaire will want to make sure their supercar is snuggled up during their winter holiday. So naturally, we have found the most luxurious underground car park to keep your Ferrari safe and warm.