Just imagine yourself walking through a sea-floating wooden boulevard with larger than life colourful cardboard cut-outs of what's going on, Julius Fucik's circus theme music, and Entrance of the Gladiators playing in the background. This is happening during the season for the visiting circus troupe from Moscow, so you see some men juggle and play tricks for a small crowd of people all in awe or wonder, while the adjacent food stalls sell sucrose rich sugary treats to laughing little children and families.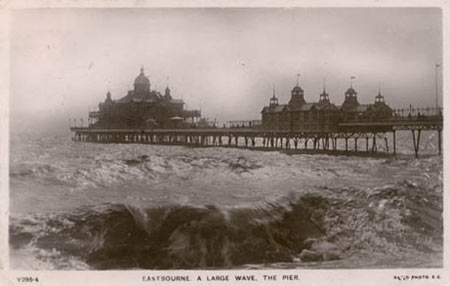 image source: http://www.simplonpc.co.uk/EastbournePier.html
All of this is captured in a picturesque image of fluorescent lights and diodes decorating the whole wooden jetty of this 1000 feet long Pier towards a large central dome and amusement   rides towards its back. This was a brief glimpse of the typical activity on a Pier in the 1800's, when Victorian style outdoor entertainment at sea-side spots was at its prime.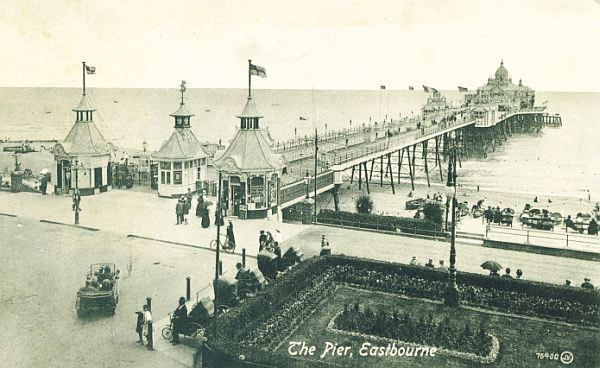 image source: http://www.simplonpc.co.uk/EastbournePier.html
About 200 years before the current tech-y entertainment of You Tube videos and satellite television, these seaside amusement parks are still sought after and many still enjoy a fun day out at The Pier. However, just as much as these spots attract crowds during the summer or early spring, they are also subject to fires due to short circuits, which become impossible to put out due to the waves from its half afloat infrastructure on the sea. There are several Pier side entertainment hubs that have been brought down to ashes in UK; one recent example is the Eastbourne Pier. It was almost burnt down once before in 1970 when a fire broke out in the Pavilion Theatre. But after an hour long blaze last Wednesday, Eastbourne's century-old Pier can now be seen as a similitude of the burned down West Pier in Brighton, which is now an eerie metal skeletal structure silhouetted against the sunset, since 2003.
image source: johnmoorejewellery.wordpress.com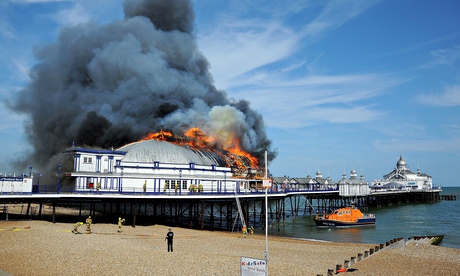 image source:www.theguardian.com 
Also listed as a heritage site for its Grade II Victorian dome, the Eastbourne Pier has been the venue for various historical events since it was first opened to public in 1870 by Lord Edward Cavendish. The theatre in the Eastbourne Pier was used to install machine guns to fire at any enemy air crafts that attempted a landing near the bay during World War II. The Pier also starred in a scene of Agatha Christie's TV series Poirot and the 2001 Michael Caine movie, Last Orders. It also holds the annual Lammas Music and Dance festival and a viewing point for the Airbourne event, one of the worlds largest annual seaside air shows, which was to be held in a few weeks.
The Pier is closed off  to public now due to its hazardous state, but one can take a stroll up Beachy Head and paraglide down to get a birds eye view of this now, smoky and charred Pier, and imagine the wonders it offered during its heyday.
Find out more about the free Airbourne 2014 display show and other attractions and events in Eastbourne
Varsha Venugopalan