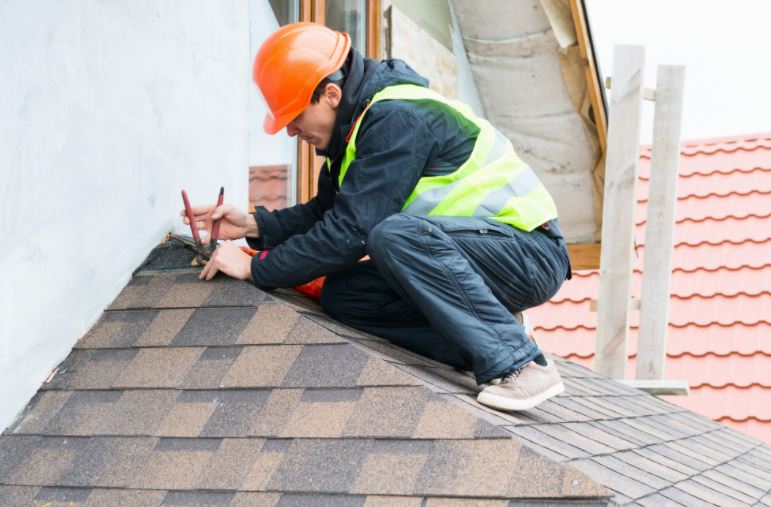 The average roof is designed to last 30 years. Once that time has elapsed, it's time to start shopping for a new roof. 
Of course, there are many other factors that may make it necessary to replace your roof sooner than its lifespan is over. If, for instance, a falling tree during a windstorm hits your roof hard, leaving massive destruction on the roof, you'll certainly need to talk to an expert roofer in a hurry.
Regardless of whether you're installing a roof that's clearly too old or one that's been damaged by a natural disaster, you need the right roofing contractor for the job. After all, the roof is one of the most expensive and important parts of your home, so you want it installed or repaired by the right professional.
In this comprehensive guide, we show you how to find the right roofing company for the project. Read on to learn more.
Start By Asking for Recommendations
One of the surest ways to find a reliable local roofing expert is to check with your relatives, friends, neighbours, and co-workers. The most trustworthy references come from people who've actually contracted a roofer in the past. Check around for people who used the contractor more than five years in the past so you can see how well their roof is holding up. 
One of the best things about using recommendations from people within your area is that you'll hear of roofing contractors who work within your local community. Such roofers are most likely to be well-versed with the local codes, which saves you trouble with authorities. 
Check the BBB Rating and Other Review Sites
Ideally, you want to work with a roofing company that's listed on the Better Business Bureau (BBB) site. Check their BBB rating to get a clear idea of what quality of work to expect. Beware of roofers who show up out of nowhere, especially after a storm, operating out of a van and not listed on BBB.
You may also want to read online reviews to learn more about a roofing contractor before you hire them. If previous customers generally seem happy about a contractor's services, it's a good sign they'll do a great job once you hire them.
Request to See Proof of Licensing and Insurance
During your initial meeting with your potential roofing contractor, ask for proof of licensing. Fly-by-night contractors hardly ever have appropriate documentation. 
You also want to ascertain whether the roofing contractor is properly insured, including workers' compensation and liability insurance. In case of an accident on the job, you want to be sure that the company has everything covered.
If a company doesn't have a business license, a contractor license, and an insurance policy, how can you be sure they're legitimate?
Inquire About Experience
You've spent a fortune to get a roof, so it only makes sense that you want to work with a contractor with a considerable track record of doing top-notch work. Don't rush to hire a contractor who has only been in the industry for two weeks just because they're charging rock bottom prices. 
Ask the contractor to produce a list of satisfied customers they've served in the past. Look for a reputable company that has served homeowners in your area for many years, such as Newroofplus.com. 
Find Out Who'll Perform the Installation
Many homeowners forget to ask this question, but there's hardly a more disappointing thing than to hire a contractor only to see an unfamiliar crew on your property on installation day. 
It's unfortunate, but some roofing companies outsource work to third-party roofers. The biggest problem is that the homeowner has no way of telling for sure whether they'll get the same quality of work they'd expected. If your prospective contractor can't guarantee that they're the one who'll perform the job, walk away. 
Get an Extensive Workmanship Warranty 
You've gone to great lengths to find a roofing contractor who you're sure will do an excellent job. But even with the best-laid plans, errors do happen. That's where a workmanship warranty comes in.
This warranty offers you coverage against installation errors committed by the contractor. If your contractor commits a mistake, it could take months or years before the damage shows up. The insurance company doesn't pay for such damages.
If damages caused by mistakes done by your roofing contractor happen, you need to notify the contractor promptly. As long as they offered you a workmanship warranty, they should rectify the problem at no cost to you.
Of course, a workmanship warranty means more when offered by a contractor with a stellar reputation and who has been in the industry for a long time. If the contractor won't be around or willing to honour the warranty, then you have to pay for the damages yourself.
Get All Agreements in Writing
All aspects of the roofing project agreement need to be in writing, especially any financial terms. A top roofing company will have a knowledgeable staff member walk you through the contract, explaining everything you need to know, so there's no confusion on your part.
Ask to see a written estimate of all costs. Any promises the contractor makes must also be noted down before work starts. This way, you'll be able to notice any changes in prices or other aspects of the project and get a clear explanation for them.
Always get at least three quotes and compare them. Beware of contractors who insist on getting paid the full amount for the job first. If you agreed to pay a deposit before the job began, don't pay the final instalment until the job is completed to your satisfaction. 
Understand How to Find an Expert Roofer for Your Roofing Project
Your home's roof is a big-ticket purchase, so you want to entrust its installation or repairs to a contractor who knows what they're doing. By knowing what qualities to look for in an expert roofer and using help from people and the internet, you can find the right person for the job.
Would you like to read more great content on getting great results when doing your roofing projects? Please keep visiting our blog for featured articles.
Ref number: THSI-2240