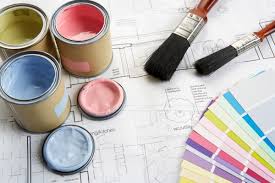 Doing renovations in your own home can be an exciting time, getting the opportunity to show off your style, flair and creativity; but it can also be a very expensive time. Certain improvements aren't cheap and have to be saved up for over a significant period of time, but there are others that are relatively cost-effective.
Changing the flooring is one example of an expensive renovation. Homeowners may have had carpets down while their children were young to try and reduce the injuries suffered as they, inevitably, fall over. As they get older you could consider laminate, wooden flooring and modern rugs can add a classy feel as well as some warmth and colour.
If you're weighing up the pros and cons of how to paint your room, then consider a feature wall. In the past many people would paint all of the walls in a particular room the same colour, but in recent years interior designers have taken to leaving one wall a different colour so that it stands out and becomes a feature of the room. It either works as a contrast, or adds the perception that the room is lighter or larger than it actually is, making it feel much more comfortable.
Adapting your lighting can be a relatively inexpensive job. A lot of rooms can seem dark and small, prompting many people to consider revamping the whole room. However, it could just be the case that the lighting in the room isn't bright enough, or your lights are poorly positioned. Spotlights in the ceiling or under-counter lights in the kitchen can help to add more sparkle to a room without you having to rip everything out to start again at great expense. Lights on pivots are also really useful because you can keep moving them until you're happy with the amount of light being given out.
Changing your heating system to a more environmentally-friendly and more efficient model might sound like a lot of work and expense, but it will save you money in the long term. Using less power means spending less money and if you can make savings on your heating bills then you can put the money to good use elsewhere.
You shouldn't neglect the outside of the home, and given the garden a makeover can make a real difference. If you're always relaying a particular area because the grass doesn't survive, consider putting some concrete slabs down for a patio area, or try decking to add a real "party area" to the garden where you can entertain family and friends in the summer with your famous barbecue talents!