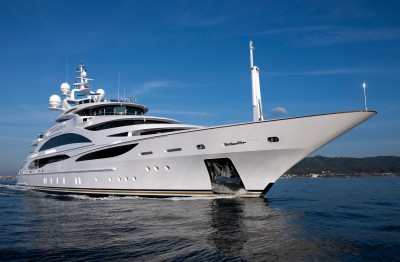 When we think of moveable homes we tend to think about caravans and trailers, often forgetting there are water-based equivalents. Seafaring vessels allow for a much longer range of travel and transport, making them one of the most luxurious forms of "property" in the world. So let's set sail and take a look at some of the most extravagant super yachts out there.
Ecstasea
We can't decide if the pun is brilliant or brutal, but either way, the boat is beautiful. Once owned by Russian businessman Roman Abramovich, it's reported that it was later purchased by an unknown buyer. Whoever it was, we hope they like puns!
Serene
This yacht, built in 2011 by Fincantieri – an Italian shipbuilding company based in Trieste – is a staggering 439ft (133.9m) long. It carries up to 52 crew members and is said to cost over 1.5 million euros a week to hire.
Al-Said
With interiors designed by Redman Whiteley Dixon and the exterior by Espen Oeino, this stunning sea vessel was built in 2008 and is a massive 508ft (155m).
Yacht Island
So you know what a yacht is, and I'm sure you know what a tropical island is, too. But have you ever seen something that's both? Take a look at this tropical island paradise…
Designed by UK company Yacht Island Designs, sadly this incredible project remains nothing but a concept. But what an amazing concept it is!
The Streets of Monaco
Yet another insane concept. What's crazier – an island yacht or a country yacht? That's right, The Streets of Monaco features miniatures of the Monte Carlo Casino, a mini airport, a hotel as well roads, cars and your standard swimming pools and tennis courts. Estimated to cost close to £700 million pound, all this yacht needs is a billionaire willing to splash the cash.
Topaz
Though not much is known about Topaz, its gorgeous exterior was designed by Tim Heywood and it's said to be one of the largest  yachts ever launched by the German yard. Featuring striking blue illumination and a cutting aesthetic, it's amazing to imagine what life might be like on-board.