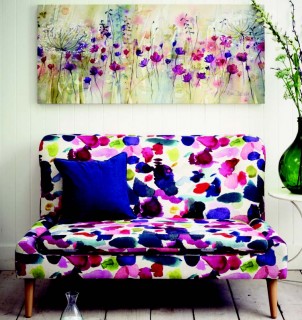 With the long-awaited arrival of Spring, and events such as the RHS Chelsea Flower Show, now feels like the perfect time to bring a little of the great outdoors into your home. Incorporating floral designs into your décor can be a tricky task, but there are plenty of ways to pull off a stunning look that will be both modern and appealing.
If you are looking for floral planting ideas for your garden then make sure to check out our Garden Ideas Pinterest board.
For thoroughly modern floral interiors, plump for bold, painterly prints; watercolour designs are perfect for wallpaper and textiles. Alternatively, intricate botanical prints are an unexpected way to add a touch of nature to your home.
For lovers of vintage interior design, Etsy is a great source for original 20th century wallpaper with everything from dainty daisy to bold rose prints. When it comes to accessorising, vintage glass and chinaware is widely available in a wide array of designs and styles from every decade.
If you're still not a fan of florals then designs with green plants or leaves are another option. There are some stunning tropical-style prints to choose from, try Cole and Son, or Rifle Paper Co. for their unique pineapple print papers.
There is a range of ways to keep floral interiors fresh; try placing them against a contemporary white or grey background to make the most of statement pieces. To prevent different prints from feeling cluttered, keep furniture simple and minimal, or pick pieces in modern glass or Perspex.
If you're feeling artistic, there are plenty of DIY ways to add floral designs to any home. Use pieces of wallpaper to decorate shelving, drawers and even staircases; or try painting wooden furniture and flooring for a look that is both full of impact and completely unique.