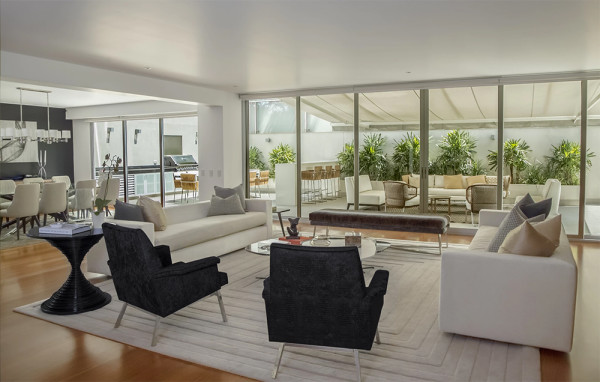 It was once the case that home security systems for the majority of properties were limited to the simple burglar alarm. But as we are seeing more smart technology being integrated into homes, and security is one of the areas that many devices have been created for. The systems can be monitored and controlled using an app on a smartphone or tablet, whether you're at home or not.
It's easy to understand why the concept is so popular. Home security is something that everyone takes very seriously, so the opportunity to keep a close eye on what's going on at your property through your phone can help you feel less vulnerable if you are away or on holiday.
In many cases, the technology is still in its infancy but there are already fantastic products that you can use to make your home safer. Here we take a look at them.
Video doorbell
Smart doorbells are one of the most publicised and well-known forms of smart security currently available. Working in conjunction with your smartphone or tablet, the video doorbell will transmit a live feed from a camera to see who is knocking on your door. It can be used when you are in or out, so you can provide details for where a delivery driver will place a package or just check who is called at the door.
The doorbells are easy to set up and connect with your phone, so there's no reason not to invest in the technology. It can provide you with security and safety no matter when and where you are.
Smart locks
Of course, the motion important aspect of smart security for your home is the same as the most important aspect of standard security: the lock. The are many different types of smart lock available from those that simply require you to use a generated code from your smartphone in order to open the lack to locks that additionally monitor exactly who comes in and out.
Almost all smart locks and integrated into mobile apps which you can add temporary or permanent users to in order for them to be able to get in.
Motion detectors
One older technology that is being used in conjunction with smart devices is that of motion sensing. Motion sensors were previously used as a form of home security with lights. Lights that turn on when they sense motion are still at useful way of keeping your home safe – main potentially intruders will be put off by the idea that someone has seen them or will be able to see them.
In smart devices, motion sensors can be used for a variety of reasons including setting off an alarm and locking entry points. It can also inform you in real time so that you can monitor the situation.
CCTV
It was once that case that CCTV was something that you would only see of commercial property or in public spaces, but increasingly it is becoming popular at residential premises. Having a security professional such as Security Assured install a camera system in order to record events can be invaluable in helping you feel safe. It's also worth noting that motion sensors can be used with your CCTV cameras – broadcasting the footage to your device.
Automated blinds and curtains
It is also the case that it is possible to have automated blinds or curtains installed in your property and these can act as a highly effective form of home security. Firstly, your curtains can be programmed to open and close automatically when you are away from home to give the appearance that the property is occupied whilst you are away – this could be combined with a timed lighting system.
Additionally, it's possible to use automatic curtains as a way to expose unwanted visitors or to close if they detect people in the vicinity.
Entry systems
There are also highly advanced entry systems that are now available that are especially useful for flats and apartments. These can use technologies such as fingerprint recognition in order to ensure that only the right people have access to your property. It can also keep track of who comes in through the system.