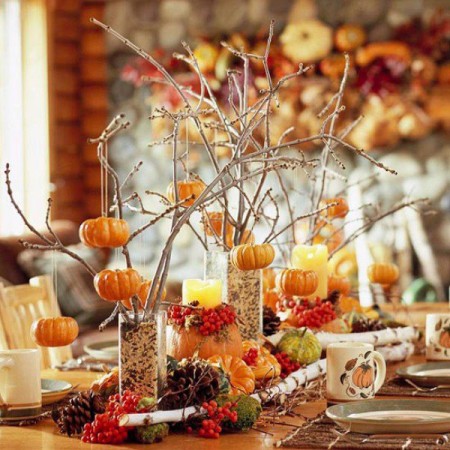 You want to move with the trends, right?
When it comes to seasonal home decorating this can be quite a difficult goal. When I was new at this, I barely got my home décor right for one season when the next one had started.
It took time to see what others did, then I had to use these ideas but find a way to let my decorations look original and I surprised myself with my creativity!
But it took time and effort, so I wanted to make it easy for you.
It's really all about a few basics:
Represent the season's main natural features (think snow vs sunshine)
Help people enjoy the best of the season
Empower people to escape the worst of the season
Yes, your décor can be functional too and that's when people start loving it.
These few simple guidelines will help get you started, love the outcome and add detail later on if and when you feel up to it.
Warm up in Winter
Of course, nothing says winter as much as snow does and you can use any version of it as your theme.
You'll have a winning result if you add:
Fake snow in the garden
Fake frosting on glass items around the house
Pictures of snowflakes on fabrics, paper or clothing
You can't go wrong with snow, it's one of the key things that people love and celebrate in the winter season, but think about how you can alleviate the cold that comes with it and you will be on the right track to bring it into your home!
The moment you're in a dark environment you feel colder, right? So, counter this with every form of light that you can think of such as:
Light fixtures
Small lights on strings, such as fairy lights
Candles
Now, amplify their impact with mirrors and reflective metals and tones such as gold or silver décor items, the reflections will carry your theme throughout your home.
That's how easy it is, find something you love about the season and simply show it off.
As I mentioned you want to help people escape what they don't like. So make people feel warm during winter, add rugs, blankets and textured pillows to each room, so your guests can snuggle up when they come to visit. This functional transformation is the one major feature that your visitors will notice and remark on and they will definitely want to come back for more.
Carry this theme through to your dining room and infuse a bit of winter at your dining table by using woollen napkins rather than satin ones. See? You can find one approach you like and use it everywhere.
What about colour? Each season has its own colour scheme, right?
In winter you can use any colour you want, but think about the undertones and apply them correctly.
Colors with red undertones will help you create warm, comfortable spaces inside. Blue undertones will enhance the cold your guests feel. Which one do you want to use?
Celebrate Spring
Seasonal décor is all about matching what's happening in nature. In spring it's all about new life, think fresh, lush colours and prints that blow away the cobwebs of winter.
If you can't decide on a colour, simply go with pastel shades, ignore what Miranda Priestly says in The Devil Wears Prada, pastels might not be revolutionary for springtime, but they sure do liven up a home and welcome the warmer weather that's just around the corner.
Remember to keep the bolded colours for summer. Everything in nature is still developing, in spring, you can communicate how fragile new life still is by using softer hues.
And that new life is represented by many images and symbols:
Flowers
Animals
Plants
The sun
Once again, you can pick your favourite designs and use it on table décor or on fabrics around the house.
Here's a handy tip: Spring is the time everyone ventures out again after mostly staying inside all winter. So make it worth their effort, place décor outside your front door and people passing by will be sure to note the changes you've made.
Explore new flavours and tastes in the kitchen so your visitors are rewarded for leaving their homes. Now is the time to add your home's selected pastel colour to your table and voilá your friends will think you're a decorating pro.
It's all about staying consistent with your theme.
Splash Out in Summer
Of course, bright colours are synonymous with summer, you don't have to pick just one, implement them all.
Use this freedom to decorate your home in the colours that you love the MOST. Don't feel obligated to use the ones you see in the décor magazines, blaze your own trail and stand out from the crowd, by letting your personality shine through.
For this colourful trend you can use any images and patterns that appeal to your taste:
Flowers
Fruit
Patterns
Bold Prints
Exotic Textiles
Find one you love and use it everywhere, within reason! When you carry a theme throughout your home it turns from a simple design into a stylish statement and it's a rule of thumb all professional interior decorators use.
Once again, you want your rooms to help people escape the rigours of the season, this time its the heat.
Give people smooth fabrics to sit on, rather than textured ones. Be smart and use lighter hues in sunny rooms, this will help keep your room cool because the fabric will absorb less heat, this smart thinking can save your guests from discomfort.
And here's one of my favourite decorating tricks, use your curtains to help people cool down. Yes, it might sound crazy as your natural instinct is to throw them open to let in the sunshine, but stick with me. If you loosen them from their tie backs, they can then move with the breeze, helping to circulate the warmer air trapped inside your home.
Now your guests can SEE the source of their comfort and that's how functional décor can be!
Find Your Roots in Fall
And which theme will you pick for fall?
Here it's vital you pick colours with warm undertones such as orange and red. Why? Because people are sad that summer is over, so you can help them still feel warm and comfortable with your interiors. And colour does a lot to help with this!
Because people are easily influenced by what they see, you can improve someone's mood simply by using colourful décor. As leaves turn brown and dull, people must be reminded of the good things of the season, like pumpkin spice lattes and getting their favourite pieces of knitwear out of storage.
Once again nature is your best source of inspiration. Fall is known as harvest time, so add any natural products you love that can be used as centrepieces such as:
Vegetables
Corn
Leaves
Nuts
And yes, these can be the images of your theme too.
Remember, use them everywhere to make a statement of what you believe fall décor ideas should be!
Conclusion
You can see how colour and natural elements are essential parts of each season, so if you have those features covered, everyone will marvel at your décor and good taste. Best of all, every shop in town, as well as your garden, will offer you items that align with these requirements. Do you see it's not that difficult? So now others can take some tips from you. It's a piece of cake!