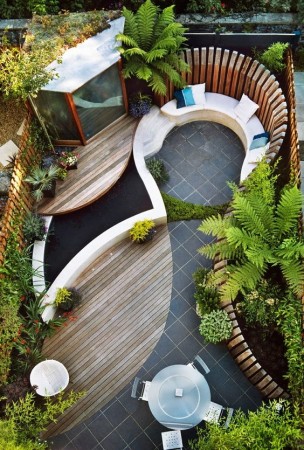 Your garden is not only your outdoor entertaining space, it is also your outdoor retreat area where you can go to relax and take your mind off everything. So, if your backyard as it stands right now isn't really all that beautiful, peaceful, or inviting, it is time to transform it into an aesthetically pleasing space that you and your entire family will love spending more time in. And if you don't have a green thumb, rest assured that you don't have to do any gardening to get the job done either. Sure, some landscaping could certainly help, but you can always hire professional landscapers to get the job done for you if you want. In the meantime, you can take care of the rest by upgrading your garden with the following tips and tricks.
Add a Brand New Fence for Privacy
These days, there are so many lovely fence designs to choose from, so adding a fence to your backyard is easier than ever. Plus, doing so could also boost the value of your home and make it more pleasing to the eye as well. Whether you prefer the look of a more traditional wooden fence or you like the new bright white privacy fences that are available, you could calculate your budget and the overall cost of installing a fence if you plan on hiring pros. Or you could go about purchasing the materials and installing the fence yourself if you wish.
After installing a fence, you should notice that you feel a lot more comfortable in your backyard space, especially if your house is situated close to other homes and your neighbours aren't really the types to respect your need for privacy. You might also notice that your garden becomes more tranquil, so you will want to spend more time outside. Overall, there is a host of benefits to derive from transforming your garden with a fence, so definitely go for it.
Add Lighting and a Fire Pit
Gardening isn't just about adding beautiful plants along your walkways; it is also about adding some pretty lights that can serve a purpose while also beautifying your outdoor space. So consider getting some lights that you can easily and quickly install along walkways. Use these to illuminate your garden during the night, as this popular backyard feature will allow you to spend even more time outside after night falls. Plus, eco-friendly lights will work off the power of the sun, too, so you will not even have to worry about installing electrical lines to keep the lights on at night. Win!
On top of artificial lighting, if you are a fan of lighting a fire and relaxing with a glass of wine, or you really love chatting around the fire with friends, you could also have a fire pit installed. Or you could simply purchase a chiminea that will fit your outdoor space perfectly.
Add a Water Feature
Water features are also hugely popular in the most beautiful and luxurious of outdoor spaces and gardens. So, if you want to really transform your backyard, consider adding a water feature like a small waterfall or even a pond. You could even add some koi fish or goldfish to your outdoor pond, provided that you know how to properly care for them and give them the water conditions that are necessary for them to thrive.
Sitting outside while listening to water flowing could be extremely relaxing, and it could be the perfect recipe for a meditative practice. As long as you maintain your water feature and take steps to keep the bugs at bay, you and your friends will absolutely love this addition to your outdoor space.
Get Creative with Outdoor Seating
Rather than sticking with your typical plastic chairs for your backyard, get a little creative to add even more beauty to the mix. Imagine a unique bench made of stone and concrete, and how well that would blend in with the rest of your outdoor décor. Or add a natural looking wooden bench underneath a tree to create the perfect little peaceful spot for listening to the birds or reading a good book while enjoying the cool shade. And you could even add a fun outdoor swing that will seat multiple people or allow you to lie down comfortably. If you have always wanted a hammock to relax in, go for it!
If you thought that the only way to upgrade and transform your garden was by adding flowers, bushes, and trees to the mix, think again. With the tips above, you could add a variety of attractive elements to your backyard space, while also making it even more functional and inviting. So go ahead and enjoy your outdoor space by making the most of it with a design that works for your needs.