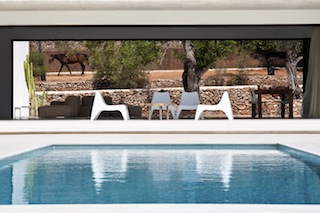 When it comes to celebrities, who hasn't holidayed in Ibiza? From Beyoncé and baby Blue to David and Samantha Cameron, the Spanish island has been a revolving door for the stars. Daniel Chavarria Waschke, Managing Director of Balearic Sotheby's International Realty, knows exactly why.
Daniel comments, "Celebrities such as Elizabeth Taylor and Errol Flynn have been visiting Ibiza since the 1950s, so this is not a new phenomenon, it's just the appetite for spotting them has grown along with the explosion of social media. What the stars loved about Ibiza 60 years ago still stands today, beautiful scenery, unspoilt beaches, rolling countryside and an ability to escape the public and the paparazzi should they wish. Ibiza is not an island that hounds the famous, it allows them to enjoy themselves alongside the locals, safe in the knowledge that they're in the most fashionable hotspot in the Mediterranean."
Indeed there are many more sides to Ibiza than tabloid tittle tattle would have people believe. Yes, it is a paradise for mad clubbing hedonism with Space, Pacha, Amnesia and Privilege offering sell-out crazy colourful club nights all summer long, but Ibiza also offers quiet coves, fine dining restaurants and a UNESCO-protected Old Town – all encircled by beautiful turquoise waters drenched with endless sunshine. It is therefore guaranteed that there's something within its dainty 570 square kilometres to suit everyone.
If you're looking for TOWIE talent or their 'Enders predecessors, San Antonio's Ocean Beach Ibiza is the place to hang out – Joey Essex, Jessica Wright, Patsy Palmer and Natalie Cassidy are just some of the "names" to have graced their VIP beds this season. Tulisa has also taken her unique sense of style to the Island to drown her ex-X Factor sorrows. Moving up the social rankings, tennis heartthrob Rafael Nadal, socialite Paris Hilton, box office banker Leonardo DiCaprio and supermodels Bar Refaeli, Doutzen Kroes and Kate Moss have all chosen the White Isle for their summer 2013 holidays.
Daniel continues, "The Island does not discriminate, it's for young and old, families and party-goers, wealthy and famous, all just a couple of hours flying time from northern Europe. It offers a high-end lifestyle which has seen a good deal of investment over recent years in the shape of new marinas, luxury hotels and restaurants. The St Tropez crowd are now coming to Ibiza, it's a very aspirational place to be."
Of course Ibiza is not just for holidays, it's also for living. Supermodels Elle MacPherson, Naomi Campbell and Jade Jagger have all had homes on the Island, as does bad boy rocker Noel Gallagher, football favourites Cesc Fabregas and David Villa, musician James Blunt and DJs Pete Tong and Eric Morillo. According to Ibiza Sotheby's International Realty, the two styles of villa most sought-after today are contemporary well-designed new builds that relate to the landscape and traditional fincas that have been modernised in Ibizan minimalist style whilst retaining the original structure. View homes for sale in Ibiza or our overseas homes for sale
Visit www.ibiza-sothebysrealty.com