Norman Bates House – Psycho
Based on Edward Hopper's 'The House by the Railroad' this rather unobtrusive looking house has become the stuff of nightmares. Most famous for its bathroom, or more specifically its shower, I feel that this house is in its own way, is as iconic as the film that came with it. Housing the Psycho killer Norman Bates, this house exudes an eerie calm.
The White House with the Blue Shutters – The Note Book
Now, I'm not one for the soppy romance movies, but when Ryan Gosling all but builds you a house, that's got to be something worth shouting about! Gosling's Noah, having come good on the promise he made to his (then ex) girlfriend wins her heart back and saves the day, of course. The house that is used in the film is Martin's Point Plantation on Wadmalaw Island, South Carolina, which was built in 1772. Find out more about it here.
                     The Addams' Family Home
After putting Norman Bates' house at the top of this list, comparatively this house looks rather tame. With its creepy, kooky and yet strangely lovable inhabitants, the Addams family home is something of a gothic heaven and definitely a location that springs to mind when I think of unique plot locations. Rather unlike Norman Bates' house however, the Addams' house is a place that makes no effort to disguise what or who is really inside and I just love it!
Thornfield – Jane Eyre
This house is really one of the main features of not only Jane's life, but also her relationship with its master, Mr Rochester. Thornfield Hall becomes both a dream and a curse for Miss Eyre and changes her life forever. Used in the most recent adaptation of the film, both Haddon Hall and Chatsworth House were filmed in and around to give the house the atmosphere of isolated and archaic wealth needed to portray such a significant feature.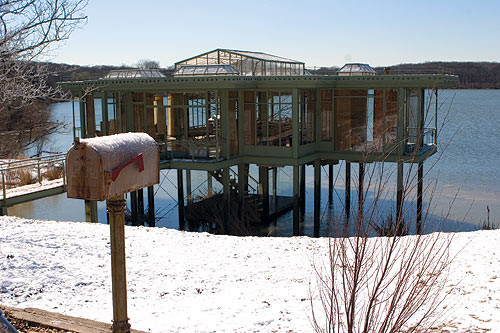 The Lake House – The Lake House
Given that the film has the word 'house' in the title you can tell we're already onto a winner and you would be right. Built on Maple Lake in Chicago, this wonderful glass house was in fact built specifically for the movie .However sadly, despite having numerous offers from prospective buyers who had seen the film and fallen in love with the house, after filming the house had to be removed from the location and has since been replaced by a simple fishing dock.
              Ennis House – Blade Runner  
Built by Frank Lloyd Wright, famous for his Falling Water house, this futuristic looking concrete structure has been used in several films due to its odd and unique looking design. This article by The Telegraph states that "[Ennis House] has been named as one of the best examples of Mayan Revival architecture, resembling the symmetrical reliefs of Mayan buildings in Uxmal" and although now crumbling and decaying, it's hard to deny that Lloyd Wright's architectural genius was a force to be reckoned with.  
Sophie Lockhart