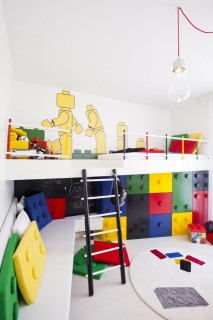 Decorating your home is a delightful experience and a gives you a chance to put your creativity to use. You start thinking of patterns, stylish furniture, how to organise the different rooms, but you often forget one important detail: your kids' bedroom. It can be a challenge to please your children's wishes; few have the resources to build a pirate ship bed or create an indoor princess castle.
When arranging and styling the bedroom for the little ones the main goal should be to create a comfortable and safe environment, so you won't be constantly worried if they fall or hurt themselves without supervision.  However one must not neglect the fun aspect of the room. Play is essential for the development and the well-being of the child, so incorporate entertaining details and fun activities they can enjoy. Here are some of the most impressive kids' bedrooms to stimulate your imagination and help you discover new ideas:
These pictures will definitely bring out your inner child! Who wouldn't love a tree house in their room?