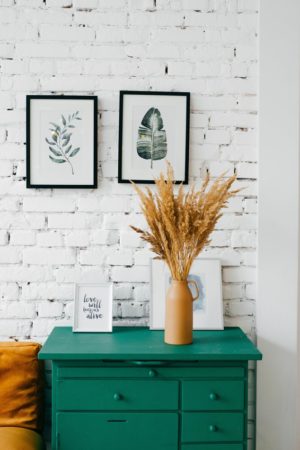 Do you want to inject some of your personality into your new home? A statement living room feature can be stylish and quirky too. Instagram, Pinterest and other social media pages heavily influence decor design, and for 2018 it's all about grand designs, even in small spaces. Your living room is a reflection of how you spend your free time, so make an impact with your own personal style.
Houseplants with attitude
If you're going to decorate with houseplants, go big and go home! Your statement greenery can be used not only as a feature, but also to give you privacy if placed near windows. If your living room is light, you can't go wrong with a Yucca plant, these are hardy, as long as you don't over water them. However if you haven't got as much direct sunlight, try a Philodendron Tree – they thrive in shady rooms and take very little looking after. The unusual leaf shape casts great shadows, and their shiny surface reflects the light beautifully. The Forest Monstera is also easy to keep and will bring the rain forest into your home.
Cool indoor water features
Your living room isn't just a place to watch TV, you can easily turn it into a peaceful sanctum – somewhere to relax, meditate and find some inner calm. Installing an indoor water fountain will give your space a unique feature, and a feeling of zen. If you have limited space, you can easily put in a wall feature that will soothe the soul with ambient sounds. Greenery and house plants placed alongside your water feature will give a great sense of feng shui. You are bringing nature and the outdoors into your home, and a water feature is considered auspicious and lucky. Just imagine the well being you will have doing a little yoga to the calming sounds of your own water fountain.
Fantastic feature walls
The feature wall is still very much on trend for 2018 – the bolder the better. Personalising your wall, using special made paper is a way to make your room truly unique. You can choose designs made from your photos, prints and ideas. Mosaic photo board walls, featuring pictures from throughout your life is very effective and will bring you happy memories every day.
Your living room doesn't just have to be a sofa, TV and a coffee table. Use the space to make a true statement reflecting your own personal style.