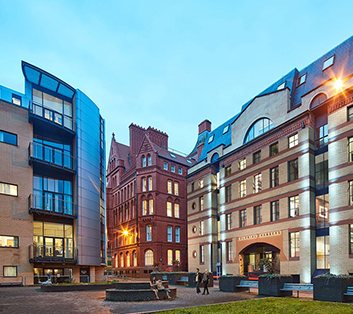 Manchester investments
Manchester – hailed as the place for property investors in the North West.
As a city, it's a buy-to-let property hotspot, a claim that can be backed-up by surveys and data which shows it's brimming with investment opportunities. Property investors with the foresight to invest early have been able to maximise the city's huge development projects. Showing how Manchester is a city constantly bettering itself and is ripe for property investment.
Why should you invest in Manchester?
As a heavy hitter in the cluster of core cities which are part of the Northern Powerhouse, Manchester has a string of accolades to its name and a global reputation. The city is well-known for its famous football team, its spectacular music scene, its business culture, the top flight universities and the friendly and resistant nature of its people: Mancunians.
It attracts a wide range of people and investors from the UK and overseas, which has a lot to do with how the city has grown and transformed itself.
Manchester is awash with young professionals – people who are either stayed in the city after studying at its highly-respected universities or those from afar drawn in by the appeal of places such as Europe's largest purpose-built media and communications hub – MediaCityUK in Salford. Along with another fantastic gem in Salford's crown the £100m Clippers Quay scheme, which has pushed the build-to-rent sector with a huge £850m investment.
A strengthened local economy is a key contributing factor to Manchester's rising property prices. The expansion of the city and the reason it's seen as a go-to place for investors goes back to 2014 when there were clear signs that Manchester was on the up and it has continued to grow and rise ever since. Research from Zoopla shows the average price of property in Manchester has increased by 12% since January 2014, compared to 8.2% in London. Looking back less than five years, it's clear to see the strength of the market and to make positive property investment predictions about the future. You can find out more information and view properties in Manchester here at RWinvest.
A large part of Manchester's appeal is what it offers students. There is an increasing need for student accommodation in the city and Greater Manchester as a whole. Universities in Manchester are some of the best in the country. This, along with, the number of people who continue to stay on and live in the city has meant more young professionals renting homes which is another reason property investment in Manchester is so lucrative.
Recommendations
The question on every property investors' lips is 'where should I invest'. The answer to that depends on many different things, one of which is how investors measure their ROI. Whether it's through rental yields, capital growth, or another measurement – it needs serious consideration form the outset.
Another key contributor for Manchester is the university effect. With an influx of students comes a demand for high-quality student developments/apartments – ideal investments opportunities. According to Cushman & Wakefield real estate, Manchester, home to 23,578 purpose-built student accommodation bed spaces, has the UK's second largest student market. It has seen a 20% increase in students from outside the UK over the last five years. And with one of the key staples of the student buy-to-let market being high rental yield, add this to Manchester's estimated student population of 85,000. The demand is clear and it's looking very promising for prospective investors.
Property analysts suggest astute investors investigate what Salford has to offer given the huge amount of investment it's received. Salford had millions of pounds worth of investment and is set to grow by 10.1% by 2020.
In the buy-to-let market, Salford has some of the highest average – 8.25% – yield mainly due to the number of professionals wanting to work in or near MediaCity according to experts from property site Home.
For information on property investment opportunities contact RWinvest on +44 (0)151 808 1250 Email: info@rw-invest.com or visit our website.