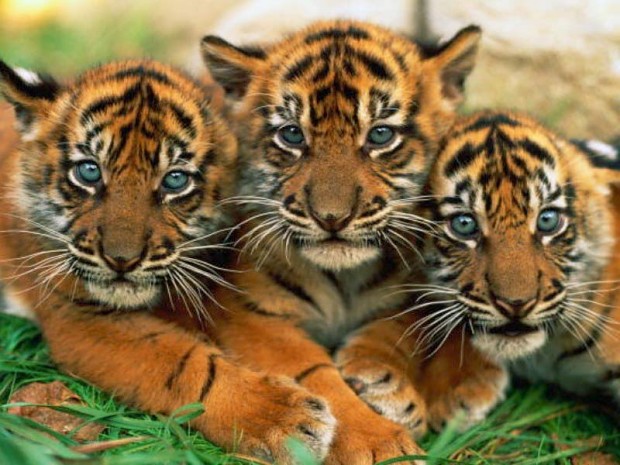 Our fascination with wildlife has driven people to desire an ever closer relationship with the animals they know and love from the wild, and over the past 500 years or more we have seen people sharing their
homes
with a variety of animals from snakes and tarantulas to big cats and hippos.
The tradition of living in close quarters with wild animals is a long standing one, dating back to Emperor Charlemagne in the 8th Century who's 3 menageries housed lions, bears, camels, exotic birds, tigers and the first elephants seen in Europe since the Roman Empire.
While modern day menageries are few and far between, there are still a number of nature lovers who welcome wild animals into their lives and homes.
Last year 2 extremely rare
baby Sumatran tigers
were born in Australia Zoo and Giles Clark was the lucky man who got to take them home to be hand reared for the first few months of their young lives. This was not an entirely new experience for Giles as in his younger years, while working at a small zoo near
London
, he had hand reared numerous litters of lion and tiger cubs at his mother's
house
.
Giles claims that for the first 4 months the cubs are relatively easy to manage as they are no bigger than your average puppy, however be prepared to tiger proof your house as an old sofa may be reminiscent of an animal carcass to the mind of a playful tiger cub (as Giles quickly discovered).
As many new kitten/puppy owners quickly discover, their new furry friends require round the clock care and supervision and the sleepless nights and frayed nerves usually associated with a new born baby are often quick to follow. Despite this, Giles and his family were overjoyed to welcome Spot and Stripe into the family and it was indeed a sad day when the cubs had outgrown their first home and had to be returned to their expansive enclosure at the zoo.
Even after the cubs departure, the family dog who had become rather attached to them, continued hunting around the house for his feline friends, determined that Giles must have hidden them somewhere in the house.
While many of us may envy Giles' experience, it is important to remember that these are wild animals with natural instincts to
use
their claws and teeth and must always be treated with the utmost respect. Unfortunately, there are far too many cases of humans being attacked and even killed by the wild animals that they have built a relationship with – a stark reminder that wild animals are both powerful and dangerous and should be admired from a distance.