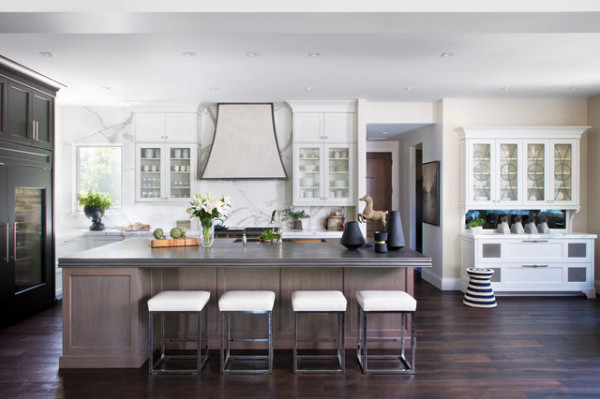 Home renovations are as scary as they are exciting, and it's easy to end up in over your head, spending a fortune on a new kitchen that doesn't even suit your home.
Never fear though; your perfect new kitchen is closer than you think. Here, Dakota Murphey provides 10 questions you should be asking yourself to keep your renovation on track.
What do you need from your kitchen?
As our family transitions, so do the things we need from our home. No room sees these changes more than the kitchen, and so when the time comes to update the space, consider how the demands of your family may be different from its last revamp.
Is the kitchen truly the heart of your home, or is it just a room to cook in? Is child (or grandchild) safety a concern, or can you reclaim the space now they've left the nest?
Everyone's lifestyle differs, and just because island hobs are all the rage doesn't mean you shouldn't fill your kitchen with a sofa and TV if it makes more sense to your family. Whether it's entertaining lots guests or working quietly while your pasta boils; the most important thing is that your new kitchen reflects the activities you use it for the most.
What are your dream features?
Write down your ultimate kitchen wish list, because now is your chance to make it a reality. If you've always fantasized marble worktops or a kitschy SMEG fridge, make a list of your "must have" and "nice to have" features to help you direct your vision for your new kitchen. The clearer you are about what you want, the easier it will be to relay it to a designer and the more satisfied you will be with the end result.
Which style speaks to you?
Creating a mood board is an excellent way to make sure the idea in your head translates properly. Collect inspiration from anywhere and everywhere – design magazines, image-sharing sites like Pinterest or Instagram, even photos of friends' kitchens or restaurants that you like. You should notice a pattern emerge, whether you're drawn to the sleek lines of a modern ALNO kitchen, or the warmth of a traditional shaker style.
Who do you want to build it?
While you're compiling your mood board, you'll undoubtedly come across adverts and websites for a number of kitchen designers. Make a note of any that resonate with your vision, and arrange to visit their nearest showrooms to have a look at their full collections. Don't forget that family and friends can be a great source for recommendations, and give you the change to inspect a firm's workmanship for yourself.
Can your designer share your vision?
The next step in your plans should be finding a professional designer to work your vision into the room you're working with. It's up to you whether you use an agent from your kitchen supplier or an independent designer, just make sure you are comfortable working with them. Communication between the two of you should be easy and friendly, and you should be confident in their ability to execute your ideas.
Are you happy with the concept?
It's so important that you trust your designer, and can listen to their suggestions with an open mind. However, if there are elements that you are really unsure about, pipe up. Just because they are a professional doesn't mean they understand your household better than you do, and it's entirely possible that certain elements got lost in translation.
Are you making the most out of every inch?
Check with your designer and supplier for modern technology to help your kitchen work harder. Soft-close cabinets, innovative corner cabinets and integrated appliances are all simple touches which can make your kitchen more enjoyable to use. It's also much easier to plan your storage solutions now than to squeeze them in later down the line.
What is included in your budget?
Knowing what you are prepared to spend is the first step to getting value from your new kitchen. Your designer is the best person for creating a list of everything you need to consider, but you are the only one who decides the budget. Don't get carried away getting the best of everything; if a granite counter wasn't on your "must have" list, you can probably go without, and spend the money on something you'll enjoy more, like a nicer hob.
When is the best time to get it installed?
After all this planning, don't rush the installation. Liaise with your builders to work out a schedule that avoids busy periods for you both, so you can get the job completed quickly with as little disruption to your lifestyle as possible.
Where will you eat in the meantime?
If your renovations are only scheduled to take a week or so, you might want to simply treat your family to a few dinners out, or even use the work as an excuse for a holiday. Just keep in mind that even the best-laid plans can fall victim to unexpected delays, so prepare a plan B, just in case. It might be cooking at a friend's or family member's house for a while, or setting up a temporary kitchenette elsewhere in your home.