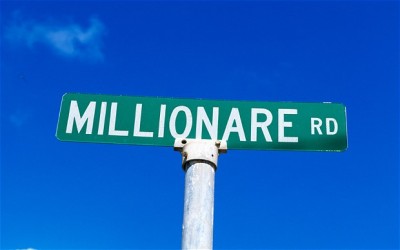 One million pounds is a life-changing money, the kind of money most people will only ever dream about. But say you happened to have it – what would you spend it on?
When it comes to property, one million pounds quickly begins to shrink in immensity – especially when you mix up location. Take London, for example: the hub of England; one of the most famous, celebrated capital cities in the entire world. Those not from the area have likely heard the horror stories: tales of staggering prices and impossible-to-nab properties. Demand for property in London is extraordinarily high.
It's no secret that a huge component of property price is based on location. But to what extent? We decided to take a look at what one million pounds would nab you in London – and then elsewhere in the world. You're likely to be amazed by the results!
One Million Pounds
Now that you're a millionaire, you're looking for a nice place to live. You've always loved London – the bustling streets, the endless night-life, the culture, the history, the modernity. So why not move there?
Take a look at this house below.
Looks nice, doesn't it? Nothing too intricate or laboured. Homely.
Sadly, if you want to buy this beautiful property, you're going to need more than one million pounds. You're going to need more than two million. In fact, you're going to need upwards of eighteen million pounds! Renovated in the 1990s by Paris-based architect India Madhavi Hudson, the price of this property is undoubtedly boosted by its prime location in St John's Wood.
Of course, this isn't your typical London property. But it goes to show just how much living in London costs. Take a look, for example, at this property in Devon.
An equally beautiful home that could be snapped up for that one million pounds (and that's not to mention the fact that it has five bedrooms, a double garage and upwards of one and a half acres of grounds). The difference in price between these two properties is absolutely staggering
Here are a few other examples of expensive London properties, accompanied by comparisons elsewhere.
Location: London
Price: £37.5 million
Location: Shropshire
Price: £800,000
Location: London
Price: £12.5 million
Location: Lincolnshire
Price: £499,950
In the end, though, these kinds of properties are vastly beyond the majority's price range. Forgetting multi-million pound properties, let's take a look at the sort of living space you could procure in London if one million was the absolute upper limit.
Unsurprisingly, a quick search for properties in London below one million pounds throws up a variety of houses ranging from £300,000 – £500,000, many of which are small when compared to the kinds of properties one could buy elsewhere. In many instances these are two bedroom terraces that aren't even located near the city.
If we expand the search to include the surrounding cities we see a massive increase in similarly priced results but for much larger (and often more aesthetically appealing) properties.
But why is London so expensive? In 2013 www.economist.com ran an article exploring this very question, discussing the issue of supply and demand. An incredible amount of people want to live in London due to high productivity, financial services and work opportunities –  ultimately, London's property market must stay as expensive as it is in order to balance desire with available properties.
It goes without saying, then, that on a basis of pure property, one million pounds is much better spent elsewhere. But London itself is a valuable location, contributing to the essence of a property beyond its physicality.
Is it possible to put a price on location? Not an exact one, it seems, but one that is undeniably maddeningly high.
by Brian Wilson

Find Properties for Sale in London and the Surrounding Area: