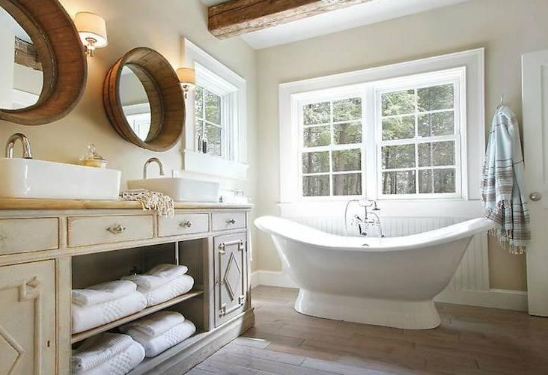 In the modern world, a bathroom could be a place for relaxation, rejuvenation and a sheer pampering zone. The dream of a fast revitalizing shower in an exotic lavatory is filled with leisure and serenity. A bathroom occasionally is mostly neglected and overlooked; and even though you may have a lavishly adorned house, it can leave a slackening impression. When it comes to making changes in your bathroom, it can get overwhelming. The job of changing the look of your bathroom can be quite a project. The key is to get a basic idea of what you want and to go from there. By taking one step at a time, you can recreate your bathroom into something beautiful. I write my paper in "step-by-step" manner to help you in best bathroom decorating.
Decide on Décor
One of the first things that you must do is decide on the type of décor that you want in your newly decorated bathroom. There are many styles to choose from: modern, traditional, contemporary, loft (yes, loft for a bathroom is very popular today) and more. Once you decide on your décor, you can then choose colours, types of furniture, flooring and other important decorating options. The type of décor that you decide upon will give you the direction you need to move on with your decorating plans.
2. 
Choosing Your Colors
Whether you are installing bathroom vanity units, freestanding bathroom furniture cabinets, a shower curtain or mirrors, you need to have a plan for what colours you want in your bathroom. Some of this will depend on the décor, but some will also depend upon preference in colours. Some people prefer white bathrooms, which is stunning when coordinated with white or black bathroom furniture and matching bathroom vanity units. For experimenters I can also advise to choose red shades, often this color is selected in tone with kitchen furniture color – stools, chairs, etc.
3. Finding the Perfect Furniture
When redecorating your bathroom, it's time for some new furniture and fixtures. Much of this will depend on the size of your room and your budget. You might want to consider one of the new bathroom suites for small bathrooms. A complete bathroom suite is perfect because all of your new furniture will match. There are many shapes and styles of bathroom furniture. Woody types would include walnut, bamboo, dark wood, teak and pine bathroom furniture. You can get quality bathroom furniture at various online locations to give you the perfect look. Remember your bathroom furniture will be exposed to water and moisture, so be careful and take a time for choosing the quality furniture.
4. Accessorizing for the Final Touch
It's often the little things that can make a difference in how your bathroom looks. For example, a shower curtain that matches your colours and styles, a wastebasket that is the same colour as your bathroom vanity units, and even a mirror that portrays the décor you have decided upon. Accessorising is fun and you will find that there are lots of options, no matter what colours or styles you use. Accessories can either boost or knock the bathroom's decor. They can empower you to make a toilet of your dreams. Bathroom accessories are obtained within the market in an exceedingly wide selection of colours. The astounding tap wares are offered in an array of colours. Every single assortment presents an in-depth top-notch style of faucet typologies to harmonize the fashionable lavatory ceramics or your personal preferences for styling. So be creative!
5. Last, But Not Least
Have fun while you redecorate. It's not something that you will do very often, so make the best of it. Don't be afraid to splurge a little and get one of the bathroom furniture sets of which you have always dreamed. You won't be sorry and you will have a lovely bathroom to show off all of your hard work.
If your bathroom is looking a little outdated, then why not redecorate by adding a new colour scheme and installing stylish bathroom vanity units to give your bathroom a new lease of life.