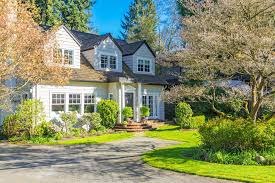 When you're looking to sell your home, there is a whole host of different myths and perceptions as to when's the best time. Each home and neighbourhood will be different, which is why it's important to do your research before you put your house on the market. However, the summer offers a number of advantages, and we'll go into these below:
Natural Kerb Appeal
During the warmer summer months, your plants will be in full bloom, your grass will be lush and green and the sun will be shining (hopefully!). Therefore, your home boasts plenty of kerb appeal, and without you having to do too much.
Keeping on top of your gardening and mowing will make sure your front garden's looking good for anyone who happens to be passing by. And, everything always looks better when the sun's shining on it!
School Holidays
This is particularly beneficial if you're selling a family home, as many parents will have more time on their hands now the kids are off school. They'll often take time off together for days out, and if they're looking to move home, this provides them with the ideal opportunity to conduct their property search.
Equally, if they're looking for a quick sale through companies like The Property Buying Company Limited, they don't have to take their kids out of school while they're moving. And, if the kids are moving schools due to relocation, it's ideal if they can start a new school at the beginning of a new school year.
People are More Inspired
As we've already touched on, the warmer summer months are much more inviting for prospective buyers. Not only does the sun help everything to look better but the longer days give people more inspiration to get on with the things they've been planning during the winter months.
Lighter nights enable them to get out and about, which means they're more likely to be viewing a greater number of properties. And, the good weather should have hopefully given their mood a boost too, so they're feeling particularly upbeat as they view their properties. It also means you can hold more viewings during the evening, so you can still show buyers around your home in natural daylight, which is always best.
Ideal Moving Conditions
If you do sell your home during these warmer months, you'll also have the benefit of moving during them. This means you aren't battling the elements as you move your belongings from A to B, and have plenty of daylight to get the job done in one day.
Things to Consider
Even though moving in summer does provide you with plenty of fabulous opportunities, there are some things you'll need to consider. Firstly, there will be a lot of competition when you're selling your home during this time, as a lot of homeowners tend to put their house on the market during the spring or summer months.
Furthermore, even though the natural daylight is a huge benefit, it can identify certain underlying problems that might not have been as noticeable during winter. These include things like damp, smeared mirrors or unwashed windows, so be sure to have your house in tip-top condition before the viewings start.
Think your home's ready to put on the market? Then why not get a friend or relative to have a walk around as though they're a prospective buyer? That way, they may see things that you might have missed and these can all be resolved before the real buyers start turning up on your doorstep.