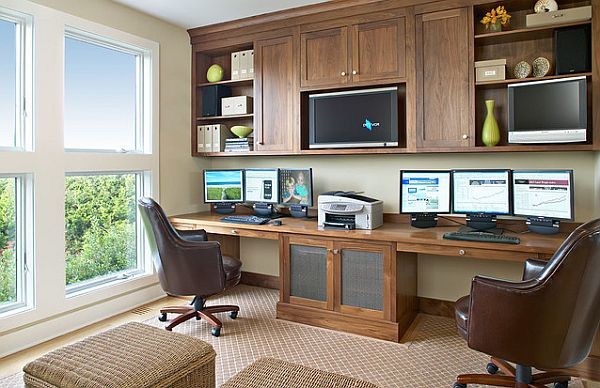 Working from home is on the rise for numerous reasons. A new Census from the Gov in the claims that in the last decade, the number of People who now work from home at least one day a week has increased by a staggering 35% in the last decade an extra 1.5 million). A lot of people are running online business searching for available domain names and making their fortunes. This being the case the importance of having a well-planned, designed, and functional office space cannot be underestimated. Having a clutter-free, well put together home office space integrated into your interior design can vastly impact both your productivity and stress levels as well as overall well-being. Here are some good and practical guidelines to designing your perfect in-home office space to pick and choose from.
Choose the right space in the beginning:
The answer may not be as obvious as you might think. While, geographically, that corner in the living room may seem to make the most sense, it is important to consider the level of distraction you may be facing in the future. Television, children, telephones, as well as pets can all disrupt  your concentration and cause distraction to your productivity.  Always choose a space with minimal noise pollution, minimal use, and minimal access to other areas of the house.  In lots of cases the loft makes the ideal space away from it all to get on with the work you have to do.
It is important to be able to separate work life from home life as well and the ability to shut a door and "leave work" is absolutely crucial for reducing stress levels so reducing the risk of "overdoing it."  Perhaps an unused dining room, or formal living room could be a better option than using a spare bedroom in some cases.
Complement, not Contradict:
If your home has a traditional design with lots of warm tones- then stick with that and blend in with the space you have. You may have that great desk your mother-in-law gave you- but if it clashes with the flow of the room, it may be worth the additional cost of getting a more functional and aesthetically pleasing one to marry with your space. You want your home office to give you a sense of comfort and ease a stark shock to the senses.
Built in compact storage:
Organisation of the storage into a home office environment is important but adding furniture to a home can always cause clutter and clutter is the enemy. Think your model thru with your designer and try to incorporating some built-in shelving, cabinets, and drawers into your space. This will not only increase how seamlessly your home office space blends into your home, but will also avoid potential issues with purchasing organizational tools which inevitably add to the problem rather than solve it. Think ahead as you will always have tools and other such objects nearby to run your business with.  The last thing you need is to have varying things around your home as this will just make it a lot harder to function correctly
Invest in a good comfortable chair:
Likely one of the most crucial elements of any home office- the perfect office chair should be of utmost priority so when it comes to picking the perfect office chair, spare no expense. You'll be spending a huge portion of your time sitting in it chair, so make sure it is as comfortable and functional as possible.
Add the personal touch:
Forget the muted, office beige (unless that's what works for you) and paint or alter your space to a color you love. Colors can affect your mood, and when it comes to productivity in the office place we all know how much mood can affect productivity. Set your space up to be relaxing, permanent, functional, comfortable, and most of all to your own  needs and wants. If you're working from home, you have the distinct freedom to toss aside convention when it comes to design- use it!
Make the best of a good view:
In an ideal situation- we could all build our home offices to overlook the skyline of our city, or overlook a white sand beach, but the reality is that we have to use what we can. Give yourself something more interesting to look at during those brief moments when looking away from a computer will help you to be more comfortable in your office environment as a whole.
Illumination:
Plenty of light is important. Of course natural light is preferable, but the daylight hours are limited- so make sure that your office lighting provides ample, bright light to reduce eye strain. You will likely need more light than you'd anticipate- so adding additional light fixtures is an important and a spotlight on the desk is always a good idea. Don't forget to choose bulds that offer light in a spectrum that works for you!  Calm crisp light on the blue side of the spectrum often offers added energy and produces a good mood.
Setting out:
We spent hours a day at our desks, and studies show us more and more how negative being seated in the improper posture can wreak havoc on the body. Protect yourself, your safety, comfort, and well-being: make sure you do whatever you can to make your space friendly to your body.
In building a home office- you should invest as much as is comfortable for your budget. It cannot be said how important to mental well-being, productivity, and mood it is to have a working environment that entices you to be there and doesn't add any additional factors which may cause stress. You'll be spending more time in your home office than you will in most other spaces or rooms in your home– so make sure that your home-office reflects that and suits you perfectly. Experimentation is key- and with a great interior designer- the possibilities are endless.