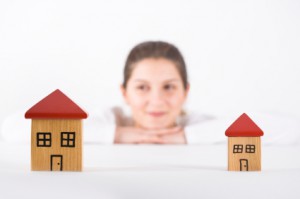 Image source: assets.gobankingrates.com
In the past few years I think we can all agree that the housing market has not been in the best of shapes. With house prices skyrocketing and more people stuck renting long term, it takes serious commitment and a huge amount of dedication to saving to step up onto the property ladder, but what are they actually getting when they finally do? The answer is not all that much, dependant on location of course.
Location, as it always has been, is yet again proving problematic for low paid workers and employees looking to reduce their commute and live in the urban centres where they work, and it's this choice of location that's really causing the problem.
In any thriving town or city, space is always at a premium, multiple companies as well as small businesses fuel the need for more and more employees, resulting in a viscious circle of high demand for property and limited space causing prices to rise exponentially, while their size in fact decreases.
In an article on BuzzFeed (here) this changeable house pricing based merely on the desirability of certain locations in comparison to others is made all the more clear through the extreme comparisons shown there. In this BuzzFeed article they highlight two properties that could not be more different in size or grandeur. One is a 28 bedroom mansion with five acres of land, the other is a garage and both are priced at £500,000. So what's so different about these two properties that causes such a dramatic reduction in space but for the same price? Location, location, location, the mansion resides in North Devon (image below), whereas the garage is on Canning Mews, near Palace Gate in Kensington.
Image source: www.buzzfeed.com
Although it is important to note that this comparison is at the extreme end of the scale, it really does drive home how unstable the current property market really is, and how changeable house prices can be based merely of the desirability of their location.
In a survey conducted by Halifax in October of 2012 (here), they found that in Westminster the average house price per square meter was £7,586 per meter squared, over four times the UK average of £1,668 per meter squared, followed by St Albans, another highly desirable commuter town in Greater London, at the second most expensive price of £3,227 per meter squared.
So how do we avoid these costs but also get what we want in terms of location? Well, at the moment there appears to be an ultimatum when it comes to the property market. Either, you sacrifice what you would like in terms of space or you sacrifice your centralised location to move a little further afield and even then the prices in places like Oxford, Cambridge and Winchester still fall over £1000 above the national average. In the end the choice for most appears to be long term renting, as job availability and inexpensive locations very seldom go hand in hand.