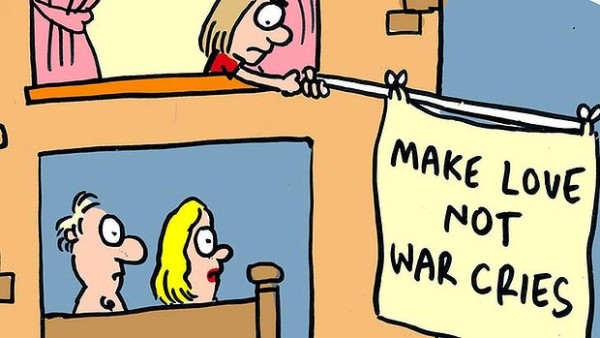 A surprising result from a survey reveals that students do not appreciate noisy neighbours especially when the disturbance comes from other student sexual activities.
With the new term well under way it's not just coursework that's keeping students up all night, with 1 in 10 students disturbing their housemates's sleep with their bed bouncing antics. Bringing one-night-stands back to student digs and being vocal in the heat of the moment was declared the third most annoying habit by disgruntled flat mates, a survey has revealed. 
Predictably, old habits die hard with untidiness topping the table of most infuriating habits (77%), whilst taking food without asking came in second with a third of students at breaking point with greedy roomies.
The study, by top student accommodation finding service, www.accommodationforstudents.com, surveyed over 1,100 UK University students ahead of the 'official' 22nd January start date of the student house-hunting season 2011 . As the grapple to secure the perfect accommodation begins unsuspecting undergraduates would be wise to consider that 54% of students confess their current flat mates drive them mad.
And talk about two-faced – although over half of those surveyed (53%) said their favourite thing about shared accommodation was living with friends, 11% confessed if they could change anything about their digs it would be their flat mates!
Along with noisy nocturnal activity, students also have 21st century annoyances to cope with, accounting for 15% of arguments. Computer-crazy students hack in to each other's Facebook accounts and leave incriminating posts, whilst others continue a flirty trend by using their flat mate's e-mail to message people they know they fancy. Some spiteful students even admitted taunting other undergraduates over deadlines by deleting work they've saved on their laptops.
38% of students declared their first year had been their favourite at University, as they had met new people and enjoyed big house shares. The figures understandably dwindled into the second (27%) and third (15%) years as scorned students left their naïve fresher-selves behind and experienced increasingly annoying co-habitants.
Simon Thompson, Managing Director of Accommodationforstudents.com who commissioned the survey, commented: "The hunt for the perfect flat mate never runs smooth, personalities will always clash. Although the 22nd January has been declared the official start of house-hunting season, savvy students actually began their search in November. We had over 300,000 students looking to ditch their current house mates during November!
"To avoid being kept awake at night or tearing your hair out over lazy friends it's worth making a list of your priorities in a flat mate and also considering your own habits. Are you an early bird or a party animal? Does the house have to be spotless 24/7 or is your privacy of real value to you? Whatever the answers make sure your chosen flat mates mirror your values."