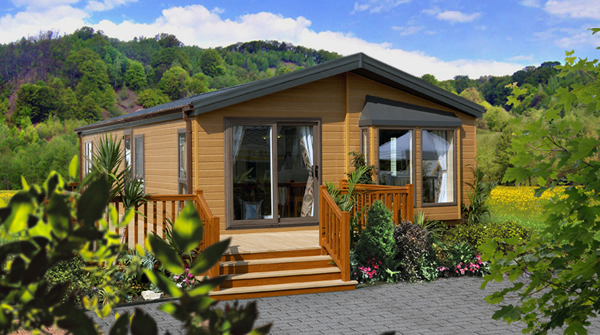 The Benefits Of Buying A Park Home
From first-time buyers looking to step onto the property ladder, to those looking for an affordable and attractive retirement choice, hundreds of thousands of people in the UK have chosen to live in a park home, residential caravan or mobile home. Situated on privately-owned estates on spacious plots, away from the stresses and commotion of urban living, park homes offer an enticing sense of freedom, privacy, tranquillity and security.
Visually, a park home doesn't look much different to a conventional home. Most are one-story structures with a pitched roof and design that makes them look like any other traditional bungalow. Park homes make great use of their living space, with integrated appliances and storage units to create a luxurious, modern interior with all the creature comforts that you might demand from any home. Their construction also makes them very durable and easy to look after, with the prospect of far fewer repair bills than homeowners of conventional buildings might face.
But what other benefits are there to buying and living in a park home?
Cost
Although larger, bespoke park homes do not come cheap, most park homes will cost less than a brick-built equivalent of the same size. Plus, as many are supplied kitted-out with furnishing and appliances, this can makes park homes an even more financially viable alternative. Although residents are required to pay a rent for the land they use (sometimes called a pitch fee), as well as their own utility bills, park homes are generally more economical to run and very low maintenance. Plus, in many cases council tax prices will be in the lowest band and much more affordable.
Eco-friendly and energy efficient
Modern park homes can be constructed from recycled or sustainably-sourced materials. Many come with highly efficient boilers and are very well insulated, or can be fitted with energy-saving features such as rainwater harvesting, grey water recycling or ground source heating. This will save money on energy bills and help reduce your carbon footprint.
Space
With your own plot, many park homes benefit from a dedicated parking spot and its own manageable garden. Parks are also located in a quiet and rural location and such attractive surroundings make a great alternative for those looking to escape hectic city life. Park homes can offer an appealing sense of freedom, with no attached neighbours to disrupt you.
Security
The majority of park sites are enclosed communities. Strange visitors may be challenged and many sites benefit from their own security, such as car registration recognition and camera surveillance systems. Plus, most have a resident owner or manager on hand to handle any problems that may arise. This security can provide a great deal of peace of mind for older, more vulnerable residents.
Community
Perhaps one of the most desirable benefits of living in a park home is the sense of community that they offer. While quiet and privacy is respected, residential park sites tend to attract others who are of a similar age, in similar circumstances or value the same quality of life that you do. Often residents have created clubs, communities, activities and other social opportunities that you might not get elsewhere. Many park site have age restrictions for its residents (commonly ages 50 plus), meaning the social aspects are likely to be tailored to your tastes.
If you are thinking about embracing such a lifestyle, consider covering your new home with specialist park home insurance. Shield Total Insurance can offer coverage that has been specially designed for owners of park homes. As well as potentially saving you money on your quote, their park home insurance will cover your home and many of its ancillaries against accidental damage, natural disasters, theft and more.