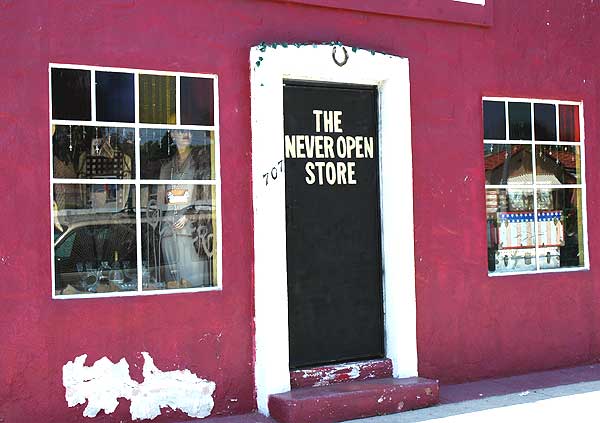 image source: http://www.justabovesunset.com/sitebuildercontent/sitebuilderpictures/051106_notopen1.jpg
The Never Open Store is located on 707 North Poinsetta Place, Los Angeles, California, 90046. Finding it is not the problem. Getting in the door is the tricky part. The proprietor, Stephanie Mata, makes her own hours, opening her store to the public only when it suits her and only to shoppers who suit her. Speaking to the LosAngeles Times, Mata commented, "I pick who I want to come in here. I basically choose my clientèle".
More art studio than store-front, Mata first started the business in 2001 when her penchant for recycling and repurposing began to overrun her home. Mata can often be seen through the store windows, glue gun in hand, combining old cast-offs and dumpster finds into art. And this art sells. A lover of thrift shops and garage sales, Mata is always on the hunt for new items, making weekly patrols of her neighbourhood the night before rubbish day. The most expensive item Mata has ever sold was "a cool chandelier I found on the side of the road, $1,500".
StephanieMata. Source: http://lat.ms/1tMiyFs   
Based more on intuition than customer satisfaction, Mata's philosophy is simple: "I'm the boss and I don't like bad vibes". As such, not only will she size you up before entry, she'll also size up your wallet, naming prices rather than marking up items. "Nothing in here is marked […] I know it's unethical, but it's based on what I feel whether I think they really love the item". Given that her clientèle ranges from college students after bohemia on a shoestring to production designers who'll pay anything for a lampshade, Mata's sensitivity to the budgets of her patrons is well placed, particularly when the bottom line is her last concern (Mata is full-time working doors at clubs including the Roxy).
The Never Open Store is something of a pariah in the world of fledgling business: a store that's fighting to keep you out rather than desperate to get you in. But that's because it's not a store, not really. It's an art gallery, displaying the trove of treasures that Stephanie Mata liberated from the garbage dump and breathed new life into. But if you want to buy them, that's entirely up to you.
Joe Castle