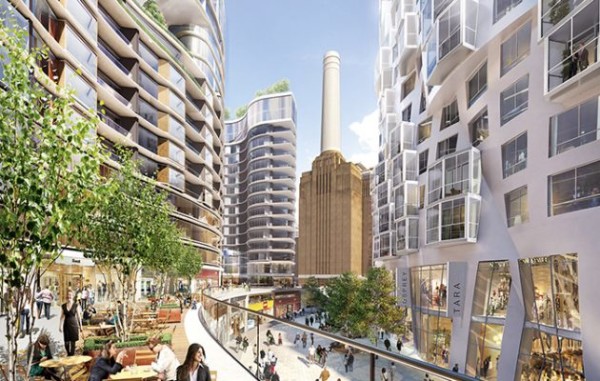 Britain's longest-running property saga finally coming to an end: Battersea Power Station to be finished in 2020 – Country Life
At long last, the saga over the redevelopment of Battersea Power Station has drawn to a close and is set to be completed in 2020.
Battersea Power Station, an iconic Grade II* listed building whose future has been under debate for almost half a century, finally has a completion date – and the plans suggest that the entire surrounding area will be brought to life.
From 1930s coal fire to Pink Floyd cover art, Battersea Power Station is a Grade II*-listed London icon. The original coal-fired power station was decommissioned in two stages, with the final trickle of electricity coming out of its wires in 1983.
Ever since then, its future has been a hot topic for Londoners – and there have been countless plans over the years, from turning it into a park to a shopping centre to – memorably for football fans – the suggestion that it could become the new stadium for Chelsea Football Club.
House prices in the UK affected by THIS slump in September? Property expert explains – Daily Express
New data from HMRC shows the dip in house sales in August this year as the trend to sell before Christmas is taking off with more properties selling in September. 
Latest data released by HMRC today shows that the number of homes sold in the UK last month dipped slightly on August, although showed an increase in the numbers sold in September 2016.
The report is based on sales of all residential properties in the UK over £40,000, which provides a reliable and independent view of the housing market.
HMRC's data suggests that 106,650 residential properties were sold last month, a decrease on August when 114,430 properties were sold in the UK, but up on September 16 when 105,370 properties were sold.
Property insider: 

how the London lettings market has transformed for a new generation of renters – Evening Standard

London's renting scene has changed so much in the last 10 years and with the advent of Crossrail, regeneration schemes and The Shard, renting property in the city has still maintained its appeal and they are more concerned with the quality of their homes than ever before. 

Consider the London of 10 years ago. There was no Uber, no CityMapper, no cycle routes and very few new-build regeneration zones beyond Zone 3.

Fast forward a decade and the city is almost unrecognisable in the wake of a financial crisis, a tech revolution, the introduction of an orbital Overground route and the imminent arrival of Crossrail.

Unsurprisingly, London's rental scene has changed too, with new homes for a new generation of private tenants in previously overlooked neighbourhoods transformed by transport upgrades and gentrification.
UK housing crisis is hitting older people too, not just the young – The Guardian
Forget Generation Rent, the newest age demographic to be hit where it hurts by the ongoing housing crisis are the older generation. They are struggling to downsize their homes due to younger people left unable to afford to buy them out.
Britain's housing shortage is never far from the top of the political agenda. But the narrative focuses almost entirely on first-time buyers when there is an even more serious and overlooked shortage in suitable housing for older people.
This paucity affects both older homeowners stuck in unsuitably large family properties and unable to find smaller homes, and people renting social housing when they need sheltered or supported accommodation. In both cases, government policy is stifling the supply of the kind of housing older people want and need, while at the same time increasing the bill for health and social care.
Developers specialising in housing for older people have to grapple with a planning system that works against them. These homes tend to have higher build costs, more communal facilities and support services to arrange, making it hard for developers to bid against mainstream house builders for plots of land.
Market towns with England's cheapest property revealed: North East is the place to go for historic markets and low house prices – Daily Mail Online
Looking to buy a home in a market town? Make sure you take a trip to Durham as they officially have the best selection on offer in the UK right now!
If you want to live in a market town but don't have a big budget to buy a property, it looks like Durham is the place to head for.
Four of the 10 market towns with the lowest house prices in England are located in the north-eastern county, according to Lloyds Bank.
The cheapest market town for homebuyers in the country is Durham's Ferryhill, which the study found has an average house price of just £78,184 – an amount that will look like peanuts to many a Southerner
The spookiest street names in Britain, where there have been no property sales for 10 years – The Telegraph
With Halloween just around the corner, it is fitting that we dedicate some blog space to the scariest streets in Britain!
Gallows Hill, Vampire Road and Coffin Close might sound like street names featured in a horror film, but they all belong in Britain.
There are almost 30 spooky street names in the UK, and some are so creepy that there hasn't been a single property sale on their roads for 10 years.
Cemetery Lane in Tonbridge and Hell Lane in Bridport have failed to attract any new house buyers for the past decade, according to online estate agent House Simple. Its research also found that there hasn't been a house sale on more than half of the 29 sinister streets over the past 12 months.
Bones Lane in Lingfield, Broomstick Lane in Tring and Crucifix Lane in Camberwell have had no house sales for the past year, with the latter only recording a single house sale in the last 10 years.
Neverland:

family home of "real" Peter Pan for sale in Notting Hill – Evening Standard

With property prices in one of London's most sought-after locations, Peter Pan fans might just have to wish upon a star, to purchase the original home of the family that inspired JM Barrie, as it goes on the market for a cool £1,375,000.

The family home of the "real" Peter Pan is for sale. No 31 Kensington Park Gardens in Notting Hill was home from 1897 to 1904 to the Llewelyn Davies family, the inspiration for JM Barrie's novel about Neverland.

The author was a regular visitor to the house, a period stucco building, that's now divided into flats. The apartment on the top floor, which would have included the nursery with the window where Peter, Wendy, John and Michael embarked on their fictional flight to Neverland, is for sale through Strutt & Parker in Westbourne Grove for £1,375,000.

Stylishly presented, the handsome two-bedroom flat has views over the communal gardens.
Find Properties for Sale in London and the Surrounding Area: