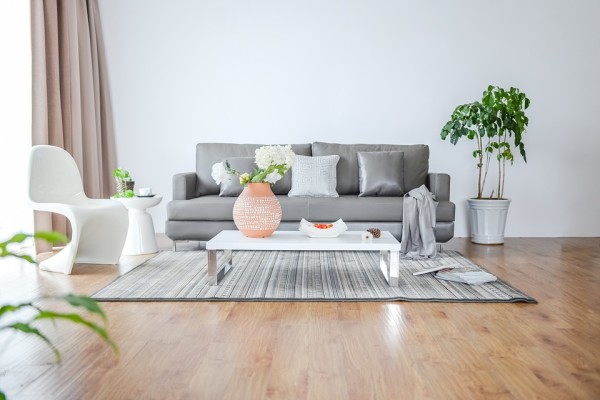 Moving into a new place is like having a blank canvas to make your own. Whether you've got a little furniture or not, you will likely want to find or purchase a few things to make the space truly yours. However, buying new furniture can be a pricey endeavour, with the average person spending $6000 on furnishing their apartment. So if you're looking to decorate, here are the ins and outs of what you can expect to pay for new furniture and tips on how and where to save!
Living Room Furniture
The most expensive furniture in the living room is a couch. Costing an average of $800, it's a staple that is necessary for both your comfort and your guests. However. if you're looking to save money, consider a futon purchase or checking out second hand sales online. Someone else's barely used couch could become your new show piece.
The same money saving ideas can be used when looking for coffee and end tables, which new cost an average of $400. Add additional decor like curtains, rugs, and a print to your specific taste and you should expect to spend upwards of $200. In total, $1410 is what the average person spends on their living room, but with some savvy shopping that number can be reduced significantly.
Kitchen & Dining Must Haves
By purchasing a new dining set, pots, pans, and shelving, the average kitchen costs $1800 to furnish. Dining sets alone cost around $1600 and therefore are the easiest big ticket item to save on. Again, second hand shopping online or in shops is a genius way to find a gently used set. Even better, a set that has been loved and just needs your personal touch of sanding and paint. DIY projects often save a ton, and leave you with a piece of your handiwork to adore for years to come.
Think out of the box and get creative with shelving ideas. Wooden pallets are great for turning into kitchen shelving with a rustic-feel. However, when it comes to your cookware like pots and pans, spend the money for good quality. These tools will be with you for nearly a lifetime — they are worth every penny!
Bedroom Decor
In the bedroom, the most expensive purchase is usually a bed frame, nightstands and a dresser, costing the average person $1200. A mattress and box spring costs $700 on average, and is something we suggest buying new. Bed frames, dressers and nightstands can be refinished, purchased from yard sales, or found on online buy and sell pages, each saving you a little more dough than buying brand new.
Bathroom Extras
Bathrooms don't need much in the way of furniture, but making that space feel more like home requires a few personal touches, the most common of which are shower curtains and extra storage options. People spend $95 on these things for their bathroom. Here there is very little option for saving money aside from looking for sales. If you are super strapped for cash, dollar stores can help. Find the bare essentials there for only a few bucks, but don't expect lush expensive quality.
Outdoor Furniture
If you want weather resistant furniture, a grill, some decorative lighting and maybe a small herb garden, expect to spend over $750 on your outdoor space. Lighting and a garden won't break the bank but a grill and furniture may set you back. Look for sales and second hand deals. Consider a small charcoal grill if your space is tiny and DIY furniture ideas if you're crafty!
Another tip to save on your place is to take a second look at what you've got! Before tossing out old pieces of furniture, consider whether they can be resurfaced or altered in a way that will suit your new place. Also, if the piece is in good condition but just won't work — sell it. Make some money for new purchases you're sure to love!