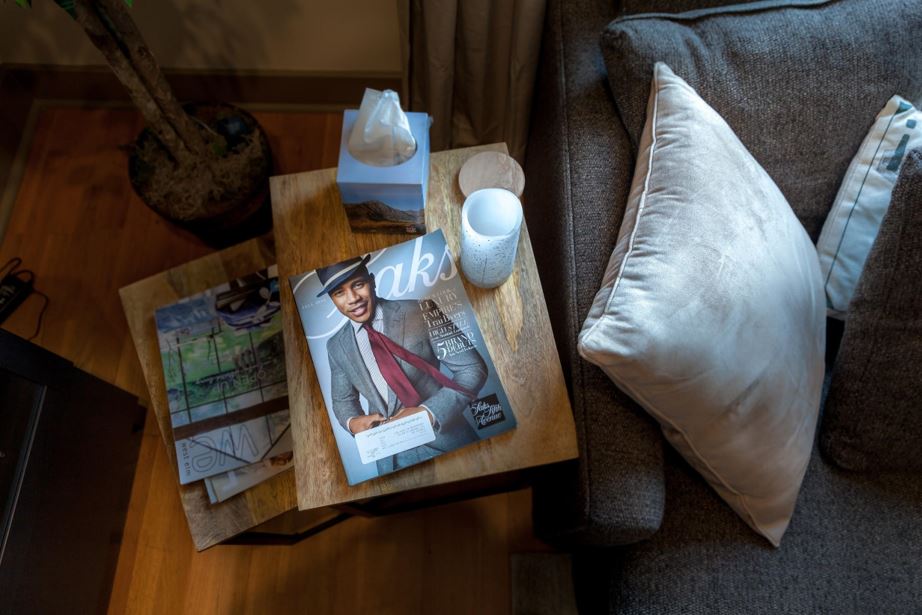 Many people tend to shy away from DIY projects because they are time-consuming and complex. This is not always the case. While they can be quite time consuming, there are many simple projects that you can easily attempt at home.
Even if you don't have all the advanced equipment, you can still make some beautiful pieces. Just make sure to choose beginner-friendly projects that are very forgiving. So even if you make a mistake, it won't be too much of a big deal. This article will give you some easy woodworking ideas which you can easily try at home.
Sofa Cup Holder
This project will be loved by all the couch potatoes. TV or series addicts will love it too. Most of us have struggled to go back and forth to grab our drink while sitting on the couch at least once in our lives. Some even mistakenly spill their drinks as well. This project will help you create the perfect solution to solve all the problems mentioned here.
To make this sofa sleeve or cup holder, you'll need to cut two pieces of wood board in the same size and one a bit smaller. Make sure to cut the two bigger boards according to the distance of your sofa so it fits properly. Then drill a hole in the smaller board to fit your cup in it.
Welcome Mat
What could be a better way of using your precious craft than welcoming your family members and friends with it? While you can buy wooden welcome mats in your local stores, they can never be as special as your handmade ones.
All you need to do is cut some long pieces of wood board and make holes in the same place on all of the sticks. Apply your favourite finish and connect them with a ¼ inch sisal.
Chopping Board
When we think of wooden utensils in our kitchen, the chopping board is the first thing we recall. They are very easy to make and are quite forgiving if you make a mistake. Though it's easy to make, it's not boring or plain at all. You can easily make a multi-coloured chopping board that looks, high class.
You can use all your scrape woods in this project. Collect all the scraps and cut them in strips. Now join the wood strips using wood glue and make sure to alter colours as you go. Let it dry, sand it well, and apply your favourite food-safe finish.
Trims
Interior trims can make your house look very classy and chic. Though they are very expensive, they really look like it. The good news is if you work with wood, you don't need to break your bank to get trims. You can make them easily at home.
Trims need to be very heavy duty. It's best to use good quality wood in this project. They tend to be quite expensive. If you don't want to spend too much, you can easily make them using any wood and apply a finish. You can know how to install trim by searching online.
Shelves
Shelves are very easy to make. They don't need any special or advanced tools. But the end result is sure to please you. You can fit these shelves anywhere in your house and store anything in them.
To make wooden shelves, you'll need some wooden boards, screws, and some L-shaped clamps if you want to wall-mount it. Cut the wood boards using a saw. You can find the measurement online. Join the pieces with screws or wood glue and wall-mount it.
Storage Box
Again, it is a beginner-friendly project. It offers a lot of creative freedom too because you can make the box in any size. After you finish making the box, you can customize it as you want. Paint it as you like, add stickers or rhinestones, and customize it to your taste.
Of course, you'll need some wood boards. Chop them up in the required measurements. You can find many tutorials online for making storage boxes; you can find detailed measurements on these tutorials. Join the pieces with screws and add knobs to lock it. Then you are ready to turn it into a piece of art.
Side Table
This one requires more skills than the previous one. But it is still manageable for beginners. Most importantly, the result will be crowd-pleasing.
There are many designs of side tables that you can make, but it's best to choose the one that has minimal details. This way you are most likely to finish it without any mistakes.
Photo Frame
This is a project that lets you quench your creative thirst and adorn your walls at the same time. They can be an excellent gift too. Most importantly, it's one of the easiest projects.
You can use any wood you want for this project. Saw the wood as needed and sand it well. Use wood glue to attach the pieces. You can paint it if you want or leave the rustic look.
Pet Bed
This is for all the paw lovers out there. You can easily make a new pet bed for your furry buddy. Though you can get ready-made pet beds, they will cost a lot more. Another good thing is you can make any size you want.
Because it's about the comfort of your pet, make sure to watch a few tutorials before you make it. Another thing to keep in mind is that you will make only the structure of the bed with wood. You have to add a very soft material on top of it.
Wind Spinner
Last but certainly not least, you can make a wind spinner using wood. A bold wind spinner is all you need to jazz up your home. You can make one using any shape you want. Be it flowers or animal motifs or simple geometric patterns.
To Conclude
Did all of these amazing projects motivate you to get off the couch and do something productive? What are you waiting for? Take out all your equipment and start crafting!
Ref number: THSI-1946