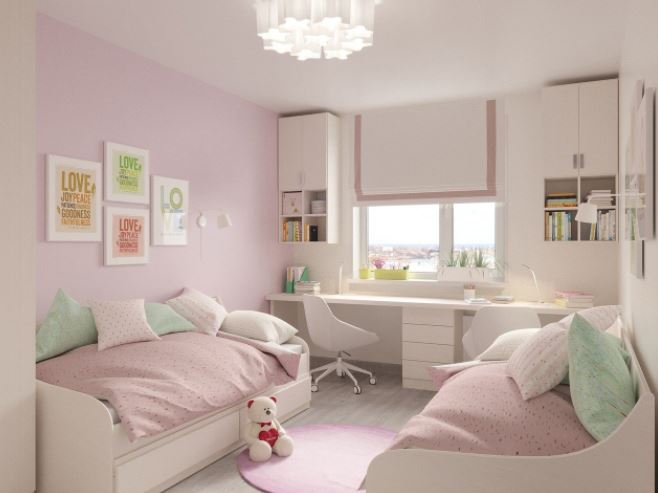 Decorating a child's room is one of the most delightful things for new parents. However, creating a functional, beautiful space that your kid will love both now and in days to come is a tall order.
The great news is that you can make it happen. In this post, we'll share 10 stylish and smart kid's room ideas that will keep both you and your child happy.
#1 – Choose a practical layout
A child's room layout can be challenging because space will have multiple functions. And so, you have to allocate the available space accordingly.
When designing for a younger kid, enough open floors for play, a table for arts & crafts, soft flooring, and several open storages for packing bulky toys are very important. A-frame or a tepee in the corner of the child's room is also a great addition since it will give the child a nice spot to relax before bed or play imaginative games.
For an older child, you may replace some of the pieces with a pinboard for invitations and school notes, a desk for homework, floor or bean bags cushions to offer additional seating when he or she has friends over.
Before you visit any shop or start looking for friendly shifters to deliver your furniture, make a plan to your kid's bedroom scale. Also, measure the furniture you want to purchase to ensure that they fit both the doorway and space.
#2 – Embrace a modern, simple design
When it comes to a child's room, less is more. And so, by keeping furnishings to a minimum and the décor elegant and simple, you will offer a neutral canvas and create enough space to play, which can be easily updated as your kid grows.
Also aim for a Scandinavian or modern aesthetic since such styles embrace minimalist décor, simple furniture, and overall practicality.
#3 – Play with colour
Children love to colour, but selecting the right one can be challenging. Sure, your little boy may adore all things blue now, but that does not mean he will later. The thought of repainting the room in a few short years is also enough to give any parent colour commitment problems!
A clever way of doing this is by introducing a rainbow of colourful accessories into a neutral, clean setting, which can be updated when your child is ready for a cool and new look.
#4 – Keep little minds and hands busy
If you have got the space, consider creating a child-friendly work area. Providing your little one with a place to create and colour keep him or her busy and may help with his or her mental and physical development.
Simply put, create a stylish yet playful workspace that can easily transition into a study station when the kid is older. Consider purchasing a play sofa for kids so they have a place to read and play.
#5– Incorporate texture and pattern
If you are wondering what makes the children's room you see in magazines look so lovely, then the careful use of texture and pattern has lots to do with it.
These often neglected yet beautiful stepsisters of colours are essential decorating tools and professional designers' secret weapons. This is because they can take a kid's room from boring to breathtaking with only a few elements.
Consider using a powerful combination of textural, rich layers and bold graphic patterns in order to create a visually interesting and well-balanced place without any colour at all.
#6 – Smart storage
Children come with lots of stuff from their games, books, and toys to their always-changing wardrobes in different sizes.
If you want to double the storage space, consider furniture with built-in storage, and use hooks, under-the-bed storage crates, book rails, and wall-hugging book rails. You can also install the second rail in your first child's closet to expand the storage potential.
#7 – Find a theme
When deciding on a theme for your little one's room, consider how easy it will be to update as the kid gets older, your budget, and your longevity.
For nurseries, most professional advisors encourage new parents to bring their childhood and history into elements of the design, maybe through favourite quotes or characters from childhood. If your child is older, talk to him or her first to know what he or she wants. Creating a room that expresses your child 'individuality while balancing it with the rest of the room's style is very important.
Bonus tip: you can get creative with murals. No doubt, most themed children's rooms bring impressive wall murals to mind. If you go for a mural, stick with a cute scene that will transition well for several years.
#8 – Display
Kids love to display their most-valued things, and so why not place a fun display shelf. You can also mount galvanised walls on the wall and you have got an instant magnetic board.
#9 – Make the child's bed a focal point
Layer your child's bed with playful cushions and eye-catching, fabulous bed linen or splash out on an impressive frame or bedhead.
You can as well frame the bed with a string of pom poms or garland to draw more attention. Fairly lights will also transform the room into a magical place at night.
#10 – Decorate the ceiling
If you want to make the room's ceiling suitable for a child's taste, decorate it with glow in the dark products or items. Your child would enjoy staring at the ceiling while he or she is about to sleep.
You can also use colourful curtains to give the bedroom a cleaner and sharper look. Consider placing a valance to reduce light, which comes from overhead during the daytime.
The bottom line
Some room ideas are indeed sophisticated and elegant. However, whatever decoration you go for, the care and love, which can be reflected on how much time and hard work you've dedicated to working on your child's room is the most important thing.
Ref number: THSI-2082
Ref : THSI-2645 / ZD. 23741