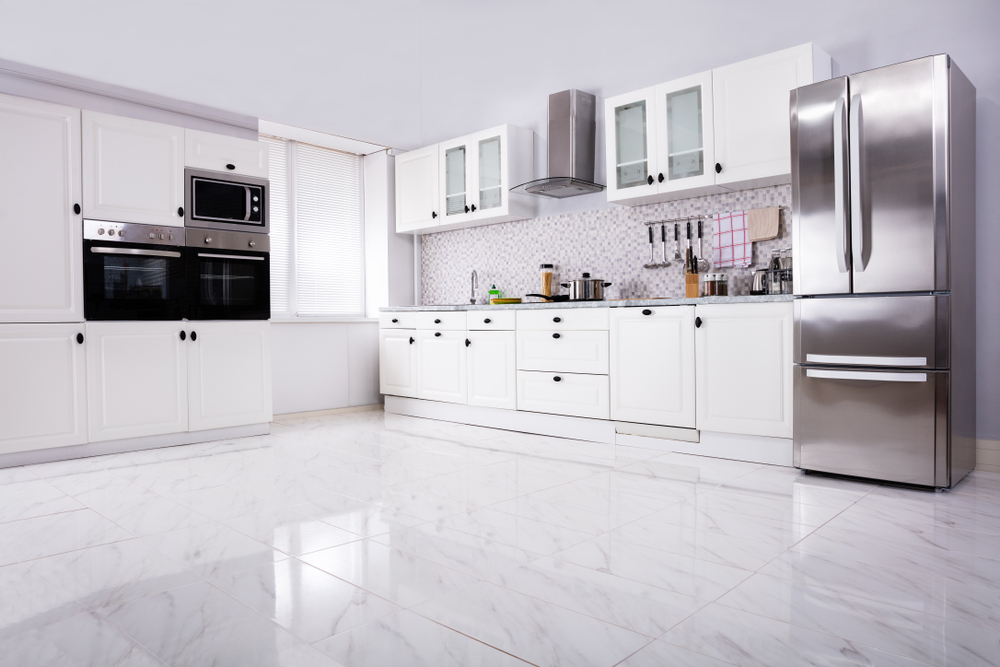 (1). Vinyl Flooring
You can get vinyl in various materials, including tiles, sheets, and luxury planks. Vinyl flooring is a straightforward installation and an excellent choice if the subfloor is in pristine condition. You can lay the vinyl over the subfloor without throwing over a costly new underlayment. The different options mean you can shop around to find what meets your preferences and budget. 
The peel-and-stick vinyl tile is the most expensive option, followed by its plank counterparts and the vinyl sheet. On the other hand, the luxury vinyl plank is an ideal choice for a DIY kitchen makeover. It is thicker than conventional vinyl tile and is a straightforward click-together installation that results in a chic floating floor.
Quality economy vinyl sheets have an average starting price of £.50 per square foot, and standard vinyl tiles are priced between £1.50 to £2.00 per square foot. You may also consider getting quality luxury planks with a starting price of roughly £3 to £4 per square foot, which come in various attractive variations. In short, you have a ton of options.
Vinyl is a top-performing, cost-effective kitchen flooring material. Some of the noteworthy perks of installing vinyl flooring in your kitchen include:
– Inexpensive flooring material
– Resilient flooring that feels comfy underfoot
– Easy to clean using a damp mop
While vinyl does enjoy top consideration among many homeowners due to its benefits, it does have some drawbacks, with the most notable being:
– The material is easily scratched or gouged
Below are some installation tips for the different vinyl options available.
Vinyl Tiles: Establish a layout by dry-laying a row of tiles across the length and width of the floor. You then can draw perpendicular lines to guide you on the rest of the installation.
Vinyl Sheets: Use butcher paper to create a perimeter template and cut the sheet into one fitting piece. Use double-sided tape to avoid using glue.
Luxury Vinyl Planks: Spread the planks over the floor and allow them to acclimate for 48 hours before installing. Draw layout lines to guide you during installation.
(2). Laminate Flooring
Laminate flooring is another cost-effective option. It is also a popular choice because it mimics various expensive flooring options. Laminate can be made to mimic slate, hardwood, natural stone, and other materials you would wish to install in your kitchen.
It is a cheap option primarily because it is not a durable choice for rooms like the kitchen. Laminate flooring has a hard resin surface with good stain and scratch resistance and other abuses synonymous with the kitchen; however, the seams between the laminate planks are susceptible to water damage. That means a forgotten or unexpected spill when cooking and a leaky sink or dishwasher can lead to bulging edges in your newly installed laminate flooring.
Cleaning options are also limited to dry methods. Wet mopping is not advisable, but the occasional damp mopping might suffice for some situations. And when you take these concerns in mind, it is best to go for the water-resistant laminate, which will have you dig a bit deeper into your pockets. The water-resistant laminate gives you a 24-hour period to deal with standing water before it causes any damage.
Standard laminate flooring prices start at around £0.50 per square foot, with the water-resistant variety priced at about £2 per square foot. You can spend approximately £3 per square foot for the top brands.
Some of the top advantages of installing laminate on your kitchen floor include:
– Convincingly mimic stone, wood, ceramic tile, and other high-end flooring materials
– Excellent for DIY installation
It also is wise to consider the following pitfalls of opting to install laminate flooring in your kitchen:
– Not recommended for wet and moist areas
– Easily starched and gouged
– Should not be cleaning using wet methods
– Installation costs can shoot upwards because of underlayment and trim pieces.
If your kitchen is not large, you can complete the installation within a day. But be careful of the plank edges because they can chip and break during installation. Also, plan the installation layout to avoid having many short pieces or narrow strips on the ends or sides of the room.
(3). Ceramic Floor Tile
You are more like to get more bang for your buck when you go with ceramic tile because it is virtually indestructible and easy to maintain. Nevertheless, grout lines might prove a thorny issue when cleaning. But you can install bargain tiles, and your investment can last as long as the premium tiles if properly installed. Cheap ceramic tiles are less trendy, but a clean style can meet the cut when aiming for chic, luxurious flooring.
You can save significantly if you opt for a DIY installation because professional tile work can see you part with nearly £14 per square foot.
Plain solid-coloured ceramic tile prices start at around £0.50 per square foot, but you also must consider thin-set adhesive, underlayment, and grout costs. You can spend about £3 per square foot on quality ceramic tiles that mimic natural stone or wood.
The merits of installing ceramic flooring in your kitchen include:
– A clean, elegant flooring finish
– Easy to clean surface
– Highly durable flooring that can last for decades
Also, take note of the following drawbacks of installing ceramic tiles in the kitchen:
– A hard surface that will see dishes shatter or damaged when dropped.
– The flooring feels cold underfoot.
– Grout joints trap grime, stains, and dirt.
– Extra materials needed will increase the overall installation costs.
– The installation process is more complicated than other flooring options.
Ceramic tiles can be installed over a floor made of cement boards to stiffen the surface and prevent cracking and moisture damage. However, it is best to carefully plan the installation layout to ensure you create an attractive finish.
Ref: THSI-2883 | ZD. 25437