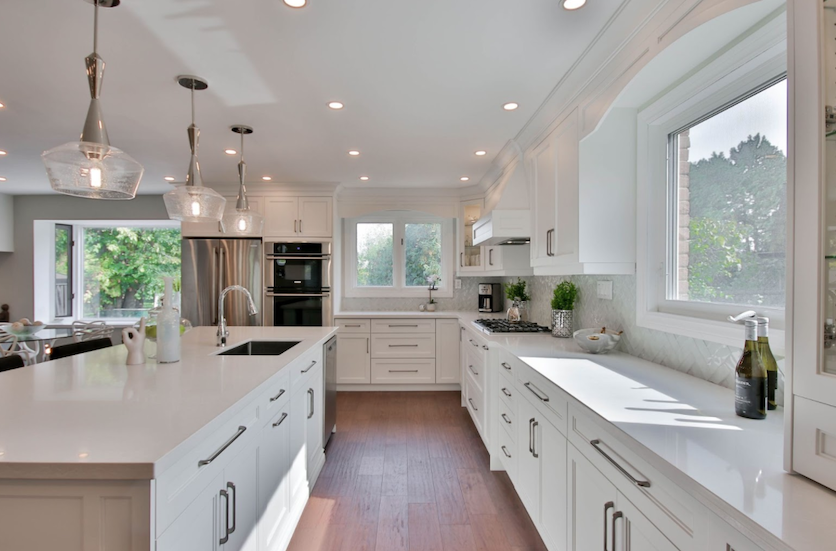 Modern-day kitchen islands are the go-to design for cooking and entertaining. Kitchen islands are the natural focal point that can range from a simple design to a unique and interesting style.
They are available in a variety of colors, patterns, textures, and shapes. However, their design purpose is to add extra space in the kitchen to prepare meals and to entertain family and friends. Kitchens add tremendous value to a home, and should not be overlooked. After implementing one of these island designs, we buy houses companies in your market will be calling you immediately with offers. Below are 3 stunning kitchen island designs to consider for your home:
Islands With Drawers and Shelves 
You can expand the storage in your kitchen with an island design with shelving and drawers. Island drawers are available in a variety of styles. For example, you can customize your kitchen island with drawers that pull out for easy access to kitchen equipment and products.
You can have aesthetic features like an open shelves design where your cookbooks, toasters, microwave, etc. can be displayed and organized. Another unique drawer idea features refrigeration drawers.
Refrigerator drawers in a kitchen island extend the amount of storing refrigerated foods without the need for an extra cooler. It has easy access for kids to get cold drinks, fruits, and snacks by simply pulling out a cold storage drawer.
Why Settle For One Island
Why not feature double fun in the kitchen with two matching kitchen island tables? They can be as large as a side table featuring a butcher block top. Instead of using one large island design, break up your kitchen space with two smaller back-to-back islands.
By adding this symmetry to your kitchen, you not only increase the functionality of your kitchen but also enhance its aesthetics. The two islands should be spaced just a couple of feet apart. They can feature drawers to hold all your kitchen utensils, seasonings, books, over mitts, and so much more. Both islands across from each other with walking space or standing space are within easy reach of whoever is cooking.
Before starting this design project, make sure that you can properly fit two islands in your kitchen. Similar to the saying, "too many cooks in the kitchen", there can also be too many islands. Accurately measure your kitchen from wall to wall. From there, measure the space that you are considering place both islands. For some homeowners, you may already have one island in place. If that's the case, it will be easier to measure the existing island and then essentially double that and see if it still fits your current layout.
Floating Kitchen Island
The floating kitchen island is a stunning concept. When you see them in the middle of a kitchen you will forget everything else. A pedestal gives the appearance that your kitchen island is floating in mid-air. The pedestal is smaller than the island because it is situated underneath the island. If you enjoy utilizing your counter pace for cooking, a floating island will allow you to spread out as you chop, dice, and season meals. Elbow space is essential when cooking up large meals for your friends and family.
The pedestal shows off an important feature of your kitchen, which is to keep the island from feeling too heavy and drawing light away from any narrow space. A floating kitchen island can have more wow factors like a nice worktop and shelves that can support any kitchen tools, appliances, etc., that are needed. 
Conclusion
Kitchen islands are available in materials that will match your kitchen décor or to further enhance its features. Materials involve marble, wood, granite, and more which should be of a porous nature to combat moisture and humidity. They vary in size depending on the kitchen space. Customization is easy with kitchen islands purchased in a brick-and-mortar location or in online stores.
As a key centerpiece, your customization can include lighting on top or beneath its, built-in range, a built-in sink, and dishwashers. Kitchen islands are here to stay especially with the technology that is ever-changing. They can also be enhanced with stools and chairs of varied styles, or an attached lounging seating with a dining table.
Ref number: THSI-2338