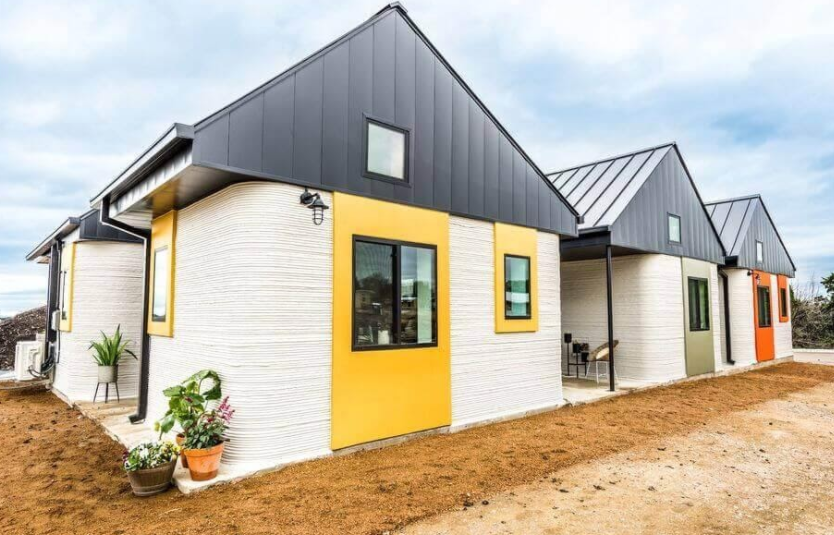 Before going into "what" and "how" of this article's subject, we'd want to establish that even houses can be 3D printed. Though the technology of 3D printing is primarily associated with creating parts and functional prototypes, it also has larger applications. In fact, according to pick3dprinter, there are more studies predicting and arguing about the benefits of 3D printing in the construction side than any other industry. A probable reason for this anomaly is because 3D printing lets you print personalized objects. The kind of customization that can be offered by this modern layer by layer creating technology is not possible with any older manufacturing techniques. 
And home is a place where you'd want the interior, the things placed inside the interior, and even the furniture to be unique. Something that is not seen at least anywhere in the locality; and at the most anywhere in the world! This is the reason why 3D printing technology can easily supply the demands of clients in this sector. The inherent needs of the customers are in sync with the natural character of the technology.
A huge number of companies have started experimenting and successfully 3D printing houses. We'd like to start with a list of these companies and their latest projects. By accomplishing their projects, these companies have established a strong foundation that promises a stable future.
3D Houses printing companies and their projects
Researches suggest that 3D printing a house can cost as low as $10,000. Although it is impossible to provide you a correct estimation of 3D printing a house, we have mentioned the cost which is explicitly available on their websites.
FMSA Architecture and RMIT Architectural Robotics Lab
Printed by RMIT University's Architectural Robotics Lab in Melbourne, Australia, this is a classic example of how 3D printing is progressing in developing infrastructures. This project has been showcased in 2017 at the Melbourne International Flower and Garden Show. It is not exactly a 3D printed house but a 3D printed play space. The structure of this play space is made from PLA materials, and the floor space is made from plywood. The 3D design of this play space came from a Cubby House Competition in 2017 won by FMSA Architecture with Kooky Cubby. 
Some space in this place has also been filled with non-3D printed items to make it realistic. Bidding for this project started from $6000 and ended at $20,000. 
World's Advanced Saving Project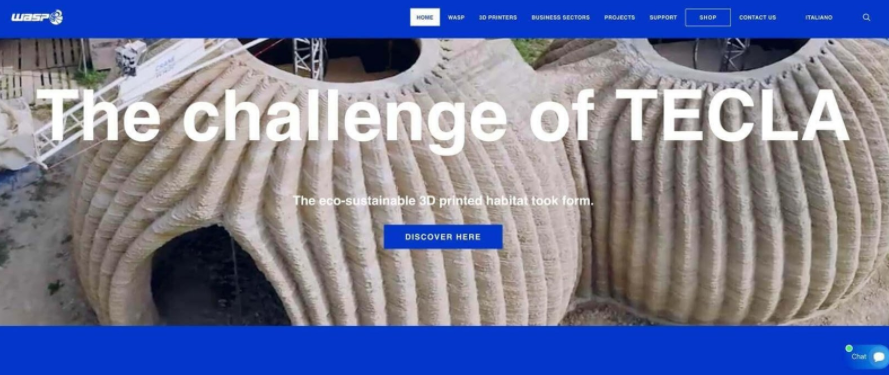 This Italian company is focused on developing solutions for low-cost but sustainable 3D printed houses. Some part of the company's work also concentrates on making 3D printers that are used in construction. To date, they have managed to print a 3D house named Gaia. Using WASP's 12-meter high delta construction 3D printer, the company could manage to 3D print this house in only ten days. The floor space of this house is nine square meters. Stating about the way in which parts of this house are made:
The walls were 3D printed.

The roof is made from wood.

The roof-support is made from timber.
Unlike the 3D printed play space mentioned above in this list, Gaia is a 3D printed house with more complex structures. Its walls are made of complex geometry and materials. The reason for keeping a complex geometry of walls is to provide natural ventilation through channels placed in the walls' layers. This keeps the temperature inside the house lower during summer and higher in winter. 
Instead of making the construction material for Gaia from a classic concrete mix, locally sourced natural materials went into the making of it. For ensuring the material is safe and able to withstand pressure as much as the traditional construction material is able to, it has gone through some standard tests and proven to be effective. 
A significant benefit of using this eccentric material resulted in cost reduction. So much so that the main structure of this house required material that cost only around $900. This project bolsters all the theories that predicted that using 3D printing technology will decrease the cost of construction materials by a significant amount. 
Icon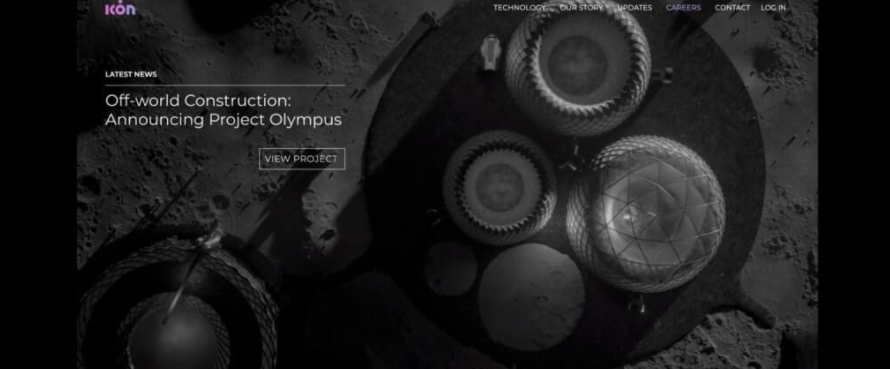 Collaborating with a non-profit organization New Story, the Texas–based company Icon built a complete neighborhood in Tabasco, Mexico. Both the companies were working with an aim to provide housing to the needy. Originally, Icon worked for making low-cost construction solutions. Stating about this 3D printed house, its cost was around $10,000, but the company is working to decrease and bring it to as low as $4000. 
Would you want to guess the time that Icon took for building this 3D printed house? "24 HOURS!" That's right! What are the chances that given the traditional technology of house making, you'd be able to build the same house with the same level of accuracy? Very-low, yeah? This is the benefit of using 3D printing technology! 
The icon is also playing a significant role in a five-acre master plan in Austin, Texas. The goal of this project is to provide housing to the homeless. The 3D printed house built by Icon will serve the Community First and learning from that experience, will expand further. By doing so, 3D printing technology would prove to be not only a technology for the rich but also for the poor and needy. Above all, this would set a perfect example of how any technology can be used for making this world a better place to live.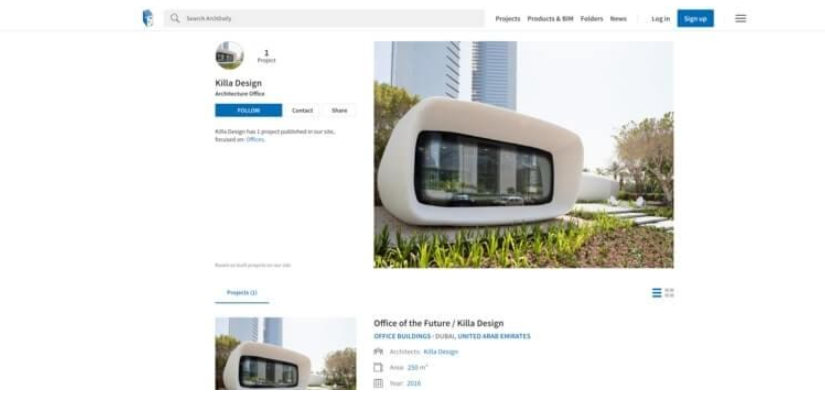 Having looked at 3D printed houses available on a low-budget, it's time to show you the glamour that 3D printing is bringing and can bring to living. The Dubai Office 3D printed by Killa Design and Winsun company is titled the most advanced 3D printing building in the world! Not only is it beautiful but also equally functional and efficient office buildings present in Dubai. 
Winsun is a company that is into the 3D printing domain. The company took only seventeen days to 3D print this office. Although the printing cost of this was pretty expensive, around $140,000, how else could it have made it to claim the title that it currently is? And though this ain't a house, it is a building and the way it could be 3D printed indicates how much 3D printing technology can bring to the construction industry in general. 
Apis Cor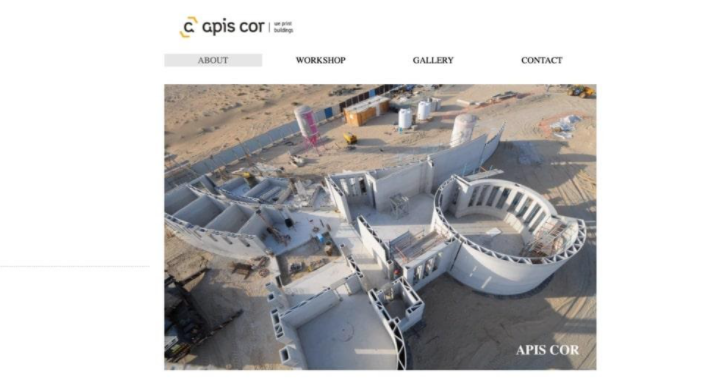 This company has originated from Russia and currently has its primary office in Boston. Its primary focus is to construct a mobile construction 3D printer that's capable of printing complete buildings on-site. Do you think it's too ambitious of them to think in this manner? Well, let us inform you that Apis Cor has manifested its potential by constructing what you read just now. Its mobile construction 3D printer built a four hundred and ten square foot house in less than a day. The price of this 3D printed house was kept around $10,150.
The company lists down the cost of building various parts of this house as:
Foundation for $277.

Walls of the house at $1624.

Floor and roof of the house at $2434.

The wiring will cost you $242.

Windows and doors at $3548.

Exterior Finishing at $831.

And lastly, interior finishing at $1178.
General questions regarding 3D printed houses
After having looked at the already successfully 3D printed houses, this section is meant to answer your most obvious curious sections.
Cost of 3D printing a house:

As you might have seen the varying cost of 3D constructing any building, you'll have a basic idea till now. 3D printing a house is a concept that is still very new and fresh. But we have established a general notion about this: A 3D printed house can be built at a lesser price than that built by traditional construction methods. Currently if the average of 3D printing a suitable house is $10,000, according to ICON, this cost will come down to $4000. This is for a small two-bedroom house.

 
The sustainability of 3D printed houses:

Currently a vast majority of 3D printed houses use concrete material. But there are exceptions, as the one shared in the above-mentioned list. Whether they are made from concrete or other material, it's important that they pass the standard tests. If they do, then with proper maintenance and continuous habitation, there is no reason to think they are inferior to any other house. Estimation is that these 3D printed houses will last anywhere from 50 to 60 years. There are 3D printed houses with timber elements in them. Such houses need more maintenance and can decay over time. However, with proper treatment, they too can stand the test of time.

Possibilities of living in a 3D printed house:

To date, the majority of 3D printed houses are concept buildings. But there are also some projects endeavored for producing 3D printed houses fit for habitation. And for that, you need to refer to the next section.
Most ambitious projects related to 3D printing a house
Below mentioned are a few intriguing projects for 3D printing a house.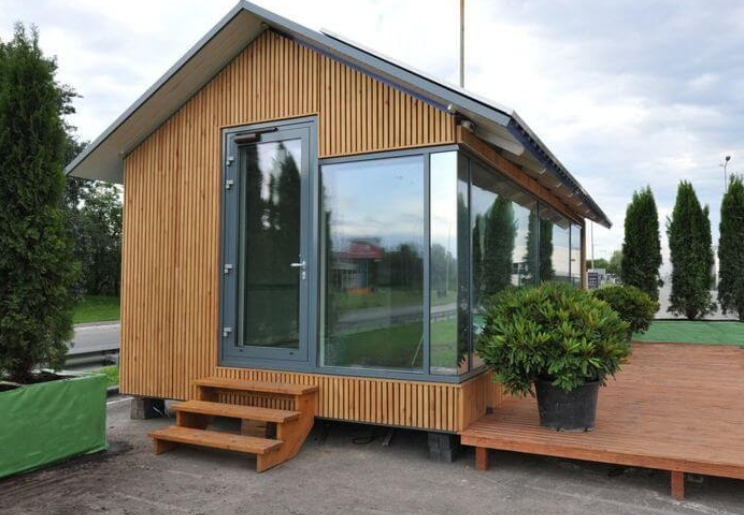 Designed to be sustainable and energy-efficient, PassivDom runs entirely on solar power and can generate water from the moisture in the air if you wish to. These 3D printed houses are created in a factory in Nevada. Experts term them to a game-changer in the field of housing and construction. The shower present in this house's bathroom can clean and recycle water! The company PassivDom, after years of experimentation, came up with this idea which is currently one of the most cheered projects in the 3D printing house industry.
Houses that look alien when compared to traditional housing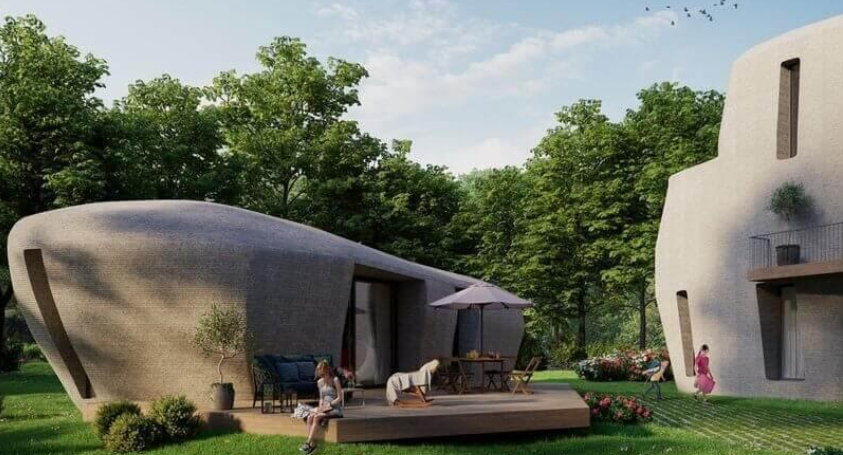 Created by the joint efforts of the Eindhoven University of Technology and Houben/Van Mierlo Architects, these 3D printed houses astonish you by their looks! Currently, the Dutch university has plans for 3D printing five buildings in the coming five years. All of them would be made from concrete, using 3D printing technology. According to the university, this would be the world's first commercial housing project being completed by 3D printing technology.
Bold and Beautiful 3D printed house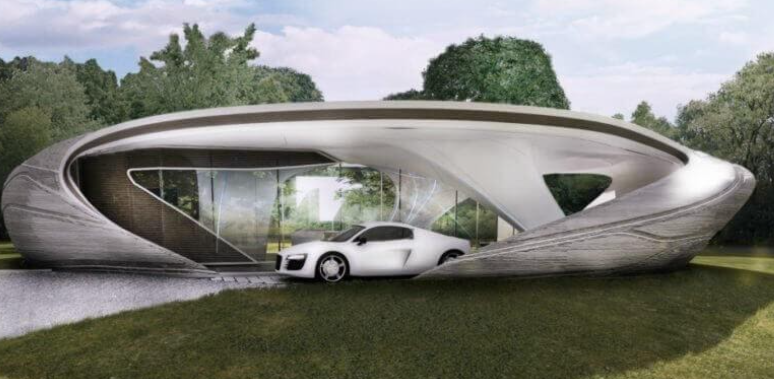 The adjectives "bold" and "beautiful" are used for the design of this 3D printed house. This design won first prize at the Freeform Home Design Challenge. Its design features a 3D printed house made from plastic, carbon-fiber panels and,  gazed walls. There were plans to complete 3D printing this house by 2020.
3D printed cabin homes in Amsterdam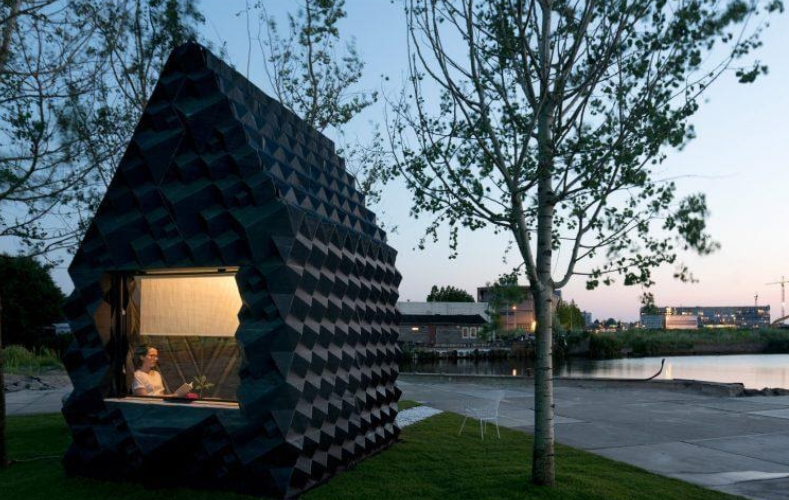 DUS Architects have plans of building a tiny 3D printed eight square meters cabin home that comes with an internal bathtub. These cabin homes are to be built using bio-plastic. The aim of building such homes is to test the technology's efficiency in building housing solutions during a time of disaster. In case if this cabin is not needed, it can be destroyed and the complete material from which it is made can be reused. The team that is developing these solutions told the media how this building is research into compact and sustainable dwelling solutions especially in urban environments.
The Conclusion
3D printing technology has been trending for many years now. So the fact that is changing the construction industry especially the domestic premises is no new and it's obvious. There are also some challenges that this technology faces. There are issues concerning the cost of 3D printers used for making 3D printed houses. The other area of concern is the strength of this house and its comparison with traditional houses.
Learn more about Best Large 3D Printers: 
But with the growth of this technology, we are hoping that such issues will be answered. And the 3D printing technology will become more and more adaptable as well as sustainable. For now, if there are only a few companies that can 3D print a house or building for you, it's possible to witness more in the coming years. And with that, it becomes obvious to expect more and more 3D printed houses to be preferred. So, be ready to witness this wonderful change brought in the domestic construction industry by the technology of the future. 
Ref number: THSI-2150