One of the biggest financial commitments you'll ever make in life is buying a home. This is why it's so important to know the ins and outs of the home you're considering buying before putting down any money and signing any paperwork. Buying a home without thoroughly inspecting it can cost you a lot of money, time, and frustration later on down the road.

As a first time home buyer, you may not know which defects and problems to look for in a home. Not knowing could cost you thousands of dollars and an endless amount of frustration. Here are four red flags that you'll want to look for before committing to a home.
1. Foundation Issues
One of the most expensive and most dangerous flaws to find in a home is a problem with the foundation. A problematic foundation, such as one that's cracked, uneven, or sinking, can cost thousands of dollars to fix. Depending on the extent of the damage, some lenders may be unwilling to provide a mortgage on the property if the foundation is severely problematic.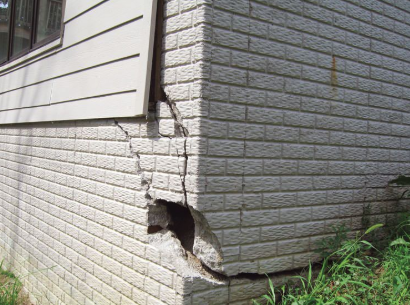 To get a good look at a home's foundation, start on the outside. Look for any cracks or visible signs of disrepair. Minor cracks are to be expected, especially as a home starts to settle. However, large cracks may be an indication of a structural problem. You can also check for cracks if the home's basement is unfinished.

In a home with a finished basement, look at the door frames. Do the doors close easily? Are the frames even or square? If not, there may be an underlying foundation problem.
2. Windows & Doors
A home's windows and doors are what keep you safe and secure from the outside elements. Before purchasing a home, you want to ensure that the windows and doors are in good condition.

Start with the windows by opening and closing them. It shouldn't take serious elbow grease to operate the window. If opening or closing the windows requires a lot of effort, the window track may need to be cleaned and parts lubricated. You'll also want to make sure the windows properly latch and lock. If you notice any cracks or warped wood around a window, chances are the windows are old and need to be replaced.
Other window problems to test for include:
Discolored glass

Fog or condensation between the panes

Air drafts

Water leakage
If you notice any of these problems, chances are the windows need to be replaced. This is one of the most expensive home projects, often costing thousands of dollars. You'll also be spending more money on energy usage if the windows aren't replaced.
The next item to test are the doors. If the home has a sliding glass door, ensure it glides open effortlessly and look for any cracks in the glass or problems with the track. Visible damage likely means the door should be replaced for safety purposes. You'll also want to look at wooden doors to check for any warping or bowing.
3. Water Damage
To check a home for water damage, the first place to look is the ceiling. Check for any dark spots that may indicate a water leak. Bubbling or peeling paint are also common signs of water damage. The next place to check is the attic. Look and feel for any wet or damp spots that may indicate that water is making its way into the home.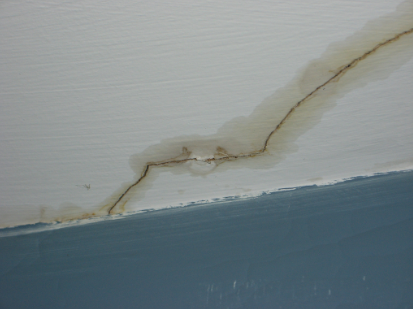 If you spot water damage, chances are the home has a roofing problem. This could be something as simple as singles that were blown loose during a storm or a more serious problem, such as an aging roof that needs to be replaced.

Even if you notice small stains, it's never wise to move into a home with obvious signs of water damage. While the problem may be small now, water damage in a home often causes excess moisture. In turn, this can cause harmful mold growth along with warped wood and damaged insulation.
4. Poor Drainage
Rain happens and you want to ensure that your dream home can withstand the worst precipitation that Mother Nature may throw it's way. Poor drainage around a home increased the risk of water entering the home which could lead to a flooded basement or a damaged HVAC unit. Before signing off on a home, be sure to visit on a rainy day. Pooling water is a telltale sign that there's poor drainage or grading problems on the property. You'll also want to look for migrating mulch, cracks in the foundation, and overflowing gutters.

If there's no rain in the forecast, look at the grading and sloping of the surrounding area. The overall grading should slope away from the home. This ensures that water doesn't pool and make its way inside.
Depending on the land, a simple fix for poor drainage could be to install gutter extensions to better direct water away from the home. However, if you notice that the land's sloping points towards the home, chances are a more expensive fix will be necessary.
Conclusion
Doing your due diligence as a prospective first time home owner can save you money, time, and frustration in the long run. Be sure to keep an eye out for these red flags to avoid making an even costlier home purchase.