The living room is the place you spend most of your time in. This means it has to be one of the most comfortable and welcoming rooms in your house. The current global situation is forcing us to spend more and more time at home, and once we do so, we start noticing something's missing.
But your living room has furniture, good lighting, a big TV, and a comfy sofa. What could possibly be missing from the equation? Allow us to answer that: some finishing touches.
No matter how nice a room is, if you don't add some final details that make this room truly yours, then it's always going to feel like something's missing.
How can you do that? We have some options for you coming up!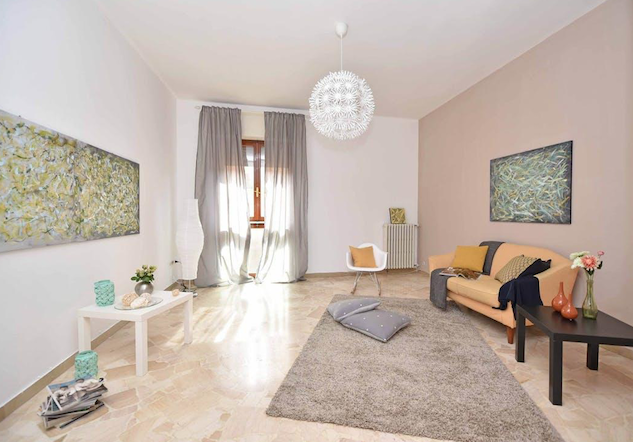 Do an accent wall
If your walls are too empty, it's time to start looking for some art that suits your living room. The easiest way to get this out of your hands is by focusing on an accent wall. This brings life to a room without having to go out of your way to make expensive changes such as the furniture or couch.
Some people decide to paint the accent wall a different colour or use wallpaper, but these are not the only options available. You can also create an accent wall using various paintings that go well together and can be hanged next to each other. Look for inspiration online and focus on creating an accent wall that suits the style of your home.  
Get a daring rug
If you feel the lower part of your living room is missing something, then you need to invest in a bold rug. The right type of rug can instantly revive a neutral seating area by adding a pop of colour and working as a focus piece. You can choose mild colours to make the seating area look cosier, or some vibrant shades to add colour and texture to the room.
Finding the perfect area rug is not hard if you know what to look for. Look online for guides about the quality of rugs, as well as the shapes that are suited for various seating areas. The colours and patterns are up to you and your family's taste. Just make sure the size fits well with the overall room.
Play with textiles
Textiles are a great way to turn an ordinary room into something special. Using the right colour combinations, materials, and patterns can make your home look as if it was taken straight out of Pinterest.
Choose a new set of drapes and get some fun pillow covers, and you will instantly brighten up the room. You can use textile elements on the walls or as décor pieces as well. There are plenty of easy DIY options you can try at home.
Use lots of plants
Plants can make even an empty room feel alive. After all, they are beings as well. If you feel your living room needs a bit of life, start searching for some houseplants that are easy to maintain.
The ZZ plant and the snake plant are two great options that require very little care. All you need to do is remember to water them every one or two weeks, and they are happy. Succulents are another great addition to a dull room, and they can be planted in all sorts of fun pots. You can even grow some of them directly in water and they will still survive.
Choose a large mirror
Especially if you have a small living room, a large mirror on one of the walls will add depth to the room and make it appear larger. It is a simple, yet effective method to decorate a wall and give the illusion of space as well.
Choose a mirror with an artsy frame, to ensure it doubles as an art piece as well and really makes a boring wall pop out. If you find a mirror with a simple frame, you can easily jump on a DIY project and upcycle it. Decorate it with braids or cording, or better yet, look for some unique inspiration online.
Ref number: THSI-2137