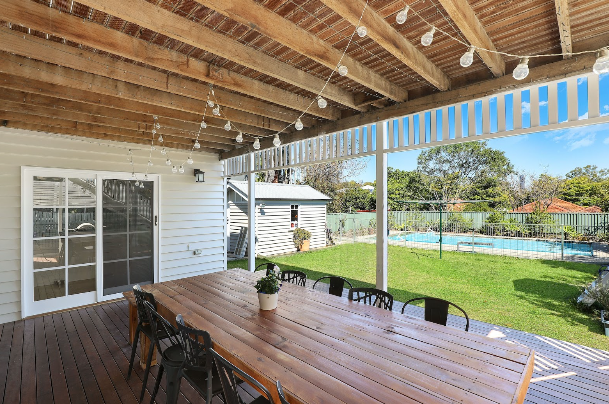 Families are spending more time in their backyards every year. Backyard remodelling ideas to improve your home can range from simple upgrades to complete overhauls of the landscaping designs. Investing in backyard remodelling projects can bring increased enjoyment of your home for your family and guests and create dramatic increases in the home's resale value.
Deck Building
Adding a deck to your home can give you years of entertaining opportunities and create a space for family gatherings or just relaxing in the great outdoors with the comforts of home steps away. Decks add beauty and character to your home while extending the usable space and increasing the property's overall value.
Suppose you are adventurous enough to tackle the task yourself. In that case, the use of a deck calculator can help to ensure you are properly using the available space with the available materials and your design requirements and preferences.
There is a wide range of finishing and staining options that will fit in with the style and décor of your home. Staining pressure-treated wood to look like cedar is an affordable way to get a great-looking deck that is protected from the elements.
New Fencing
The most visible way to remodel the backyard area of your home is to install new fencing that can increase security and privacy around your home. Replacing or installing new fencing allows you to design the best way to fence in your backyard area. Installing new fencing around your backyard can:
Add security and value to your home for insurance and resale purposes.

Offer seclusion from neighbours that allow privacy for gatherings or just letting the kids in. Provide effective boundaries for your pets to freely roam your yard without escaping, bothering the neighbourhood, or getting injured.

Provide added protection from the elements for gardens and other vulnerable outdoor areas.
Patio Ceiling Installation
Installing a patio or porch ceiling can be easy to install and adds a fresh dimension to your outside spaces. Porch ceilings protect from the elements and create another room to entertain, gather, or just relax without the fear of getting rained on.
Decorative beadboard panels can easily be installed and painted to match the style and character of the rest of the home. They require very little maintenance and can last for many years.
Drainage Improvements
Drainage problems in your backyard can cause major hassles and result in expensive cleanup and repairs. Little garden and lawn drainage problems involve standing water that creates clay soil conditions that reduce the ability for rainwater to seep into the ground.
Landscaping and yard renovations are great opportunities to evaluate your draining systems and make any necessary drainage improvements to the exterior of your home. Permeable paving systems allow for complete rainwater runoff through porous grids, preventing water buildup that can cause drainage problems.
Install Outdoor Kitchen
Among the most famous recent trends in backyard renovation projects in the addition of outdoor kitchens. Entertain outdoors throughout the year with a fully functional kitchen complete with stove, refrigerator, tables and chairs so you can spend entire days or evenings in your backyard.
Some tips for installing the ideal outdoor kitchen in your backyard include:
Make sure you are getting the best use of the space for your needs and preferences

Grills and other appliances and features can either be permanently installed or designed to be moved or stored in the off-season.

 

Have your cooking devices match the kinds and styles of food you like to prepare and eat – pizza ovens, bbq steamers, and brick ovens are options
From upgrading your current decking, fencing and other backyard components to adding brand-new, modern drainage and technology, consider your backyard when remodelling your home for increased home value and enjoyment!
 Matt Lee is the Innovative Construction and Building Materials blog owner and a content writer for the building materials industry. He is focused on helping fellow homeowners, contractors, and architects discover materials and methods of construction that save money, improve energy efficiency, and increase property value. 
Ref: 3054.26855