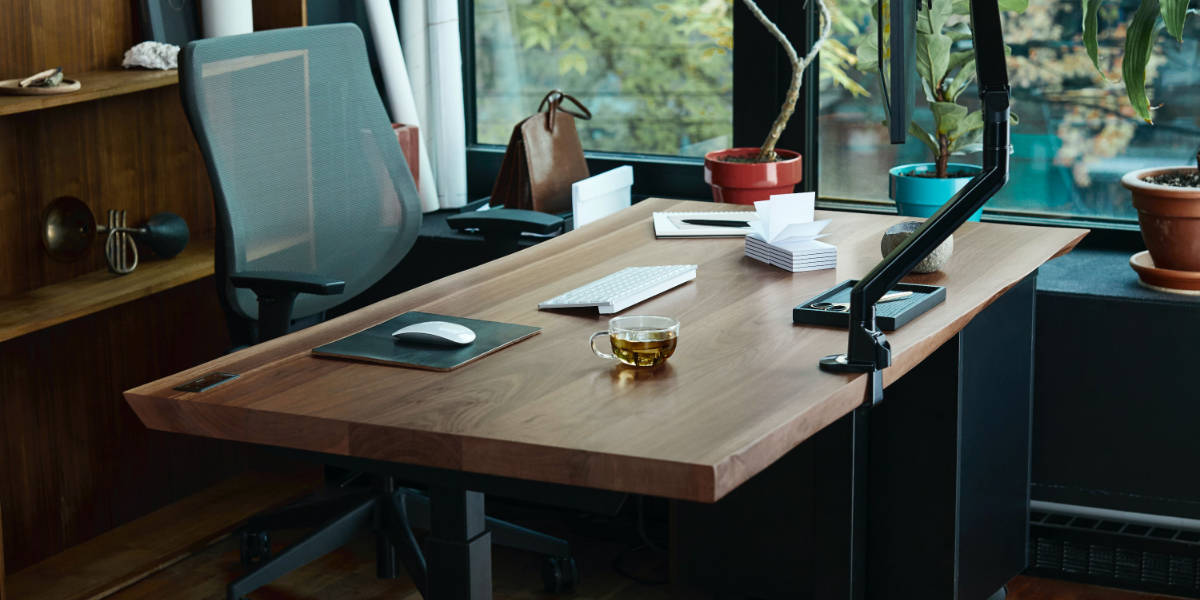 If you sit in a regular chair for several hours a day and look at a computer screen, you may be prone to musculoskeletal problems involving the back, wrists, shoulders, legs, feet, and other body areas.
 Do you get frequent headaches, neck stiffness, back pain, or numbness in the legs? The problem could be your chair. You may enjoy the benefits of an ergonomic chair.
How you sit can make a difference in your performance. Replacing your old chair with an ergonomic chair could be the solution for you.
 Here is what you will learn in this article:
The meaning of ergonomics and how it applies in the workplace

Ergonomic positions that help you keep your posture

Five benefits of ergonomic chairs
What is Ergonomics?
Ergonomics is the way we adjust our environments to our lives. You may have learned how we should use our bodies to lift and perform heavy tasks. Although that is a part of ergonomics, we will address how we interact with our work environments.
Ergonomics in the WorkPlace
The point is to stay healthy in the workplace, and your posture is a great place to start. Sitting at a desk while looking at a computer screen can be exhausting and, in most cases, painful. Comfort is crucial for creativity and productivity. When you hurt, you may not want to do your best.
 Did you know the setup of your home office can affect your performance? The size of your desk, the position of your computer, or the room lighting may alter your ability to concentrate.
Ergonomic Positions
It does not matter the height because anyone can use these techniques to sit appropriately.
They help keep your whole body in alignment. These techniques are most effective in an ergonomic chair.
When you sit down at the computer, make sure the distance between you and the desk is at an arm's length, roughly 18-24 inches

Sit straight up with your back and neck in a neutral position to avoid slouching

Make sure the top of your computer is at eye level

Position your elbows and knees at 90-degree angles

so that your forearms are parallel to and your feet are flat on the floor
Five Benefits of Ergonomic Chairs
Ergonomic chairs not only protect your health but can complement any home office decor.
1. They Improve Overall Health
The build of ergonomic chairs provides proper body alignment and prevents health problems. Ergonomic chairs are adjustable to accommodate your body type and support your neck, back, legs, and feet.
 You can adjust the headrest, backrest, and seat to ensure your posture is comfortable for you. A straight neck can also reduce eye strain.
Reduce Neck, Back, and Hip Pain
Sitting in a straight chair for too long can cause neck strain and shoulder pain, eventually leading to something more serious. It is too easy to slouch without realizing it. Ergonomic chairs provide support for your neck and back.
 The adjustable headrest and backrest keep your neck and back in perfect alignment while the seat supports your hips and buttocks without putting pressure on your hips. The backrest has curves to match the contour of the spine.
Improve Circulation
The soft seat is a little deeper, approximately two to four inches from the back of the knees so that most of your weight is on the cushion and not your hips. Sitting this way increases blood flow and decreases swelling and numbness in your legs.
Improve Mental Clarity
Sitting for prolonged periods may make you feel tired and lose track of what you are doing. An ergonomic chair can help alleviate the stress of sitting by relaxing your body and clearing your mind of any physical pain and stiffness.
When your body relaxes, your concentration improves.
2. They Are Comfortable
Most ergonomic chairs consist of breathable material to keep you cool as you work. The seats have padding to protect those pressure points, such as the joints. Additionally, ergonomic chairs include levers to adjust the height, so short people can use these chairs to reach a taller desk.
 Work-friendly chairs have armrests to take pressure off of your shoulders. Some ergonomic chairs recline so that you can take a break in between projects without leaving your office.
3. They Are Adjustable
Ergonomic chairs have levers to adjust the headrest, backrest, armrests, and seat height. These chairs have wheels for rolling around the office.
Arm Rests
You can adjust the height and width of the arms to fit any desk. Some chairs come with foldable or removable armrests so that you can slide closer to your workspace.
Swivel
Ergonomic chairs swivel so that you can turn the chair instead of twisting your back.
Back, Neck, and Foot Rests
Adjust the back and neck rests to your comfort level. You can change the height or angle of the neck portion. Reclining chairs may have footrests.
4. They Are Versatile
Ergonomic chairs can accommodate any body type or height. They are therapeutic for individuals who have desk jobs or want a comfortable chair. The ergonomic chair you use in your home office can make a comfortable chair for watching movies, reading, or visiting with friends.
5. They Are More Cost-Effective
Ergonomic chairs are expensive but well worth the money. If you invest in a chair that supports the whole body and lasts longer, you may not have to buy another chair for years.
Summing it Up
Ergonomic chairs are customizable to your body shape and size and protect sensitive pressure points. Health problems, such as carpal tunnel syndrome, rotator cuff injuries, and sciatica can occur after hours of sitting with a poor posture in a regular chair.
 Work-friendly chairs are adjustable, durable, and comfortable. They keep your back and neck in a neutral position so that you can work longer without pain.
Ergonomic chairs are available in different designs, fabrics, and colours. If you are looking into remodelling your home office, there may be a chair to match your decor.
THSI-2805|ZD. 24818