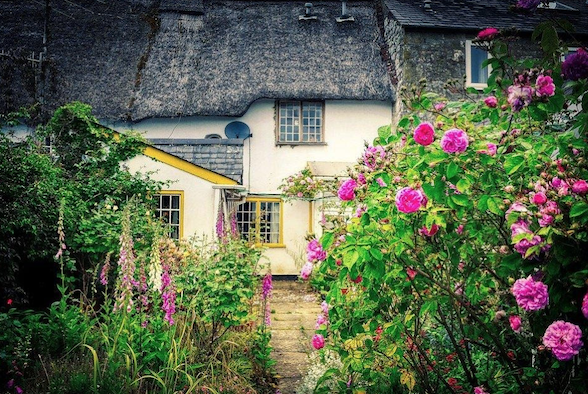 Whether you are planning to sell your home or simply looking to build the house of your dreams, painting and decorating is a fantastic way to add value and kerb appeal to a property. Here are our top five painting and decorating tips that will be sure to benefit the look and value of your home.
Painting Your Exterior Walls
When it comes to adding value to a property, there is no better way than transforming the exterior. After all, first impressions count.
Whether you have tired-looking paintwork on the masonry or the property is suffering from damp problems that are caused by water ingress on an exterior wall, this can be easily solved with some elbow grease and a paint roller. 
A little-known form of masonry paint that is used on exterior walls and brickwork is waterproof masonry paint. One such from Emperor Paint creates a water repellent surface on exterior walls that prevents problems relating to the penetrating damp. Not only this but it comes with a lifetime guarantee that ensures the property will remain protected and look pristine for decades to come, as well as protecting your investment in your property.
To be exact, a newly painted property is estimated to increase in value by 2%, with the cost of painting the property coming at a fraction of the cost of rendering, which can cost upwards of £8,000.
The Details Make All The Difference
When it comes to kerb appeal, the small details matter. While painting the exterior walls and masonry of your home can have a huge impact on kerb appeal, do not forget the smaller details such as doors, windows, fascias & soffits.
These parts of exterior trim are often wood, metal or UPVC, which can all be easily painted using widely available paints such as Zinsser Allcoat. These are quick fixes that take a fraction of the time as painting the full exterior of the property, but that is extremely effective at making a huge first impression.
Why not start simply by painting your door a modern black or anthracite grey instead of the dated and boring white that is so common across the UK? 
Say Goodbye To That Boring Patio
We all know how an outdoor space can make all the difference to a property, not only to potential buyers but to the current homeowner.
An often unknown way to transform an outdoor space is to paint your concrete patio. Yes, painting your patio! It is important not to use masonry paint when painting a patio as contrary to what many suggest as these will not remain adhered to the concrete for long due to the standing water and footfall a patio endures. 
When painting concrete patios use specially designed paint for concrete floors that can withstand weathering and footfall for years to come.
You could modernise your patio with a dark grey shade or why not use a stencil to create a beautiful, patterned patio that will be the envy of the street?
Quick Fixes
Potential buyers of a property will look for any faults with the property. The more faults they find, the less they will be willing to pay. This means tidying up any small scuffs or marks that can knock as much as £7,000 off the price of some properties, according to Sell House Fast.
The cost of a tin of gloss paint for woodwork or a tin of emulsion to tidy up a tired-looking wall is insignificant compared to the difference in sale price you can expect.
Transform Your Kitchen
Today, the kitchen is one of the most important living spaces for many people, especially families. Transforming a kitchen is often considered an extremely costly job, but it doesn't have to be. You can paint your kitchen cupboards at home using good-quality multi-surface paint once it has been primed. This means that you can add whatever colour you like to your kitchen cupboards to give them a need to freshen up. 
Conclusion
It doesn't have to be difficult to add value to your home. It can be done with a paintbrush and a lick of paint. Whether you are painting something as small as a piece of skirting board or the full exterior of your home, it can make all the difference not only now, but when it comes time to sell it.
Ref: THSI-2390
THSI-2832 |

ZD. 25011